This article is more than 1 year old
F5 integrates products into 'Distributed Cloud Services'
Now with cross-cloud deployment capabilities and shiny new UI
Security vendors always seem to be acquiring rivals and promising to integrate their wares into a suite of products that make it less likely you'll get whacked by online villains.
Now it's the turn of F5, which has announced "Distributed Cloud Services" that brings together the API security product it acquired along with Volterra in 2021, plus its existing web application firewall, Shape AI bot defense tech, and DDoS deflectors.
All of the products can be managed together, an arrangement that Haiyan Song, F5 executive vice president and general manager for security and distributed cloud, believes makes life easier for users because they don't need to master distinct tools for different products.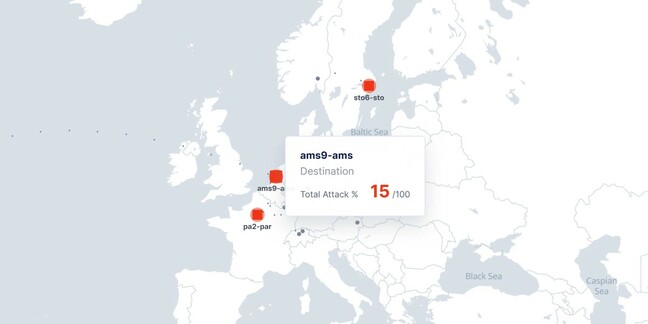 F5's new DDoS detection console
Again, this is established doctrine for vendors when they acquire and integrate products. In F5's case the doctrine applies if its new SaaSy platform is used as the control plane for all its products.
F5 has also ensured that the tools managed by Distributed Cloud Services can be deployed to whatever on-prem rig or public cloud a user prefers. In the latter environment, F5 has figured out the plumbing peculiarities of the major clouds so that the suite, and a user's preferred security policies, can be deployed without having to learn the intricacies of each platform.
"We have abstracted to the structures of the clouds," Song told The Register.
The individual components of the suite have been modernised a little, but it's the centralised management and promised ease of use that are the real changes in this new product. ®