This article is more than 1 year old
Hong Kong Watch says its website suddenly can't be seen in Hong Kong
Who could possibly want readers in HK not to access independent opinions about the rule of law?
The website of UK-registered charity Hong Kong Watch – an organisation dedicated to researching and monitoring threats to the territory's promised freedom and autonomy – has suddenly become impossible to reach from Hong Kong.
The charity on Monday posted news of the blockage, and alleged DNS tampering.
A friend of The Register in Hong Kong, who asked not to be named, was unable to visit the site and sent us a screenshot depicting their attempts to do so.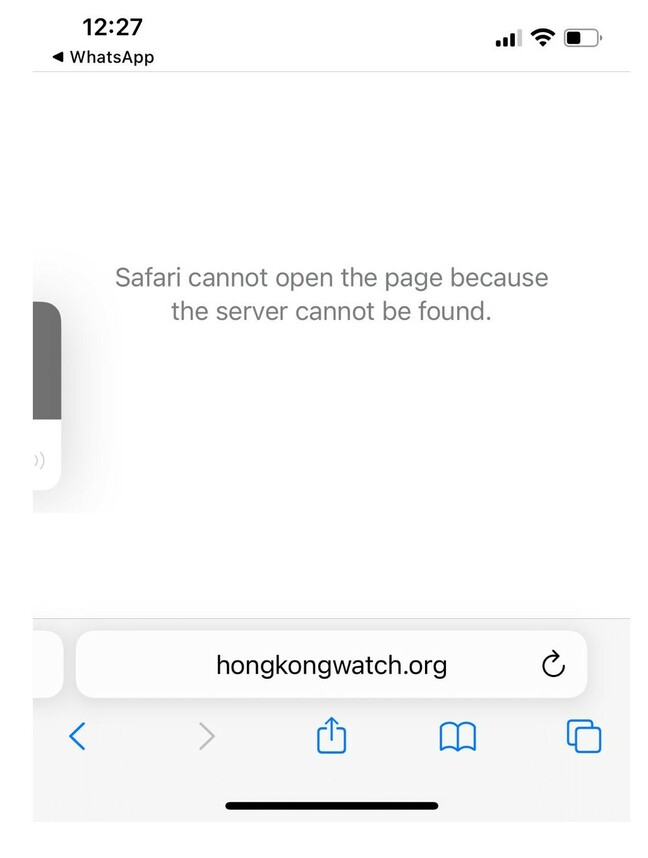 Click to enlarge
An individual described by Hong Kong Watch as an "internet freedom expert" asserted via Twitter that the tampering was done at the behest of Hong Kong's pro-Beijing authorities.
This removal matches patterns first seen in the delisting of https://t.co/zV8TwRoj9V. We can safely assume that this removal from DNS was requested by the Hong Kong Police.

— Nathan Hammond 張拿敦 (@nathanhammond) February 14, 2022
Hong Kong Watch CEO and former resident – now banished – Benedict Rogers said:
If this is not just a technical malfunction, and Hong Kongers will no longer be able to access our website because of the National Security Law, then this is a serious blow to internet freedom.
With the steady drip of website removals, there are fears that China could begin introducing its Great Internet Firewall into the city. With time this could have serious ramifications for the continued presence of western technology companies in the city.
Rogers said the future of Hong Kong as a financial hub depends on its access to information, so any resrtictions on the internet threaten the territory's economy as well as residents' freedoms.
The charity is not alone in finding itself banished from the territory it aims to serve. Other websites already blocked include the HKChronicles, Transitional Justice Commission and HK Charter 2021.
Telecom network Hong Kong Broadband Network (HKBN) readily admitted to censoring websites per the National Security Law in the past.
The law came into effect in June of 2020 and tightened government control over education, traditional media, and social media. Despite being unenforceable outside Hong Kong, it is applied across the planet – including on those not living in Hong Kong – with bans such as this.
The law criminalizes any act of secession, subversion, terrorism or foreign collusion related to Hong Kong and was referred to as "dangerously vague and broad" by Amnesty International. The human rights organisation also said the law immediately had an effect on the populace as many Hong Kongers began censoring themselves online and public libraries began removing books on touchy topics so as not to draw attention or anger authorities.
In July of 2021, the US issued an advisory warning businesses of warrantless surveillance and potential for forced surrender of business and customer data in the region.
The political crackdown has seen the region experience a 1.2 per cent year-on-year decrease in population at mid-2021 – the largest drop in 60 years.
Steven Okun, a senior advisor and China expert at international trade consultancy McLarty Associates, recently described a mass exodus of business from Hong Kong on Singapore-based radio talk show MoneyFM.
"The exodus from Hong Kong to Singapore is well underway," said Okun, referring to both individuals and businesses. He described Hong Kong as transitioning from a global hub to a Chinese city.
"This is not a western phenomenon," he added. "You are having Chinese businesses which need to have a global presence coming to Singapore, the same as western businesses." ®