This article is more than 1 year old
Users report trouble with Azure DevOps services
Thanks Microsoft! Engineers in Europe get to finish early today
Updated Azure DevOps services in Europe have slowed and in some cases are unavailable, resulting in a number of the platform's offerings being broken for local users.
Problems began on Tuesday afternoon, UK time, taking out (or rather "degrading") some fairly critical services. Boards, Repos, Pipelines and Test Plans have all been affected, although currently only for users in Europe.
The issues have hit affected users at pretty much every point in the DevOps lifecycle. This includes capturing data using boards on the service:
I tend to capture notes, bugs, etc using @AzureDevOps boards while on a call/demo with customers. This morning, several of the items got lost due to Boards having an issue 😢

Don't accept data if you can't ensure it can be persisted.

— Sean Feldman (@sfeldman) February 15, 2022
And dealing with repos:
Is it just me or is Azure DevOps super slow/down? @AzureDevOps @AzureSupport
Can't pull git changes either, it seems.

— Jos Koelewijn (@Jawz_84) February 15, 2022
As for what happened to the service, Microsoft isn't saying much. The Register asked the company for more information and if there was a likelihood the issue might spread to other regions, but we have yet to receive a response.
Slightly worryingly, a good hour and a half after the service's status page admitted that there were problems due to "an event impacting Azure DevOps" the engineers looking into the issue seemed mystified by the problem, reporting that: "The root cause is not fully understood at this time," and "We currently have no estimated time for resolution."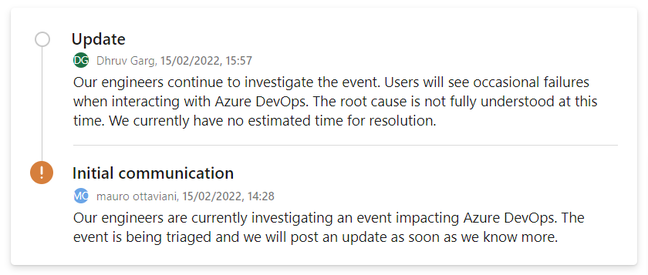 Click to enlarge
Yikes.
It's all a bit unfortunate, for both the service and the affected customers. The service's Hosted Pools came under attack last year by what Microsoft delicately called "abusers."
An anonymous source used an altogether ruder term for the crypto-mining miscreants, but told us that this time around it didn't look like the same issue (although in the absence of an official comment from Microsoft all bets are off).
Things remain wobbly at time of writing. So crack open notepad.exe for your reports and dust off that copy of SourceSafe. What could possibly go wrong? ®
Updated to add at 0000 UTC, February 16
For what it's worth, the status page is reporting everything is looking normal again.