Construction starts on another Asia-Europe undersea cable
Redundancy may not be a bad idea after damage to sister links
Construction has begun on a 19,200km submarine cable running from Singapore to France, Singaporean telco Singtel said on Monday.
The company claimed the new optical-fibre cable system, called the South East Asia-Middle East-Western Europe 6 (SEA-ME-WE 6), would offer one of the lowest latencies between these regions at a transfer rate of 100 terabytes – or 40,000 high-def videos – per second.
Its exact route goes from Singapore to Malaysia, Bangladesh, Sri Lanka, Maldives, India, Pakistan, Djibouti, Saudi Arabia, and Egypt.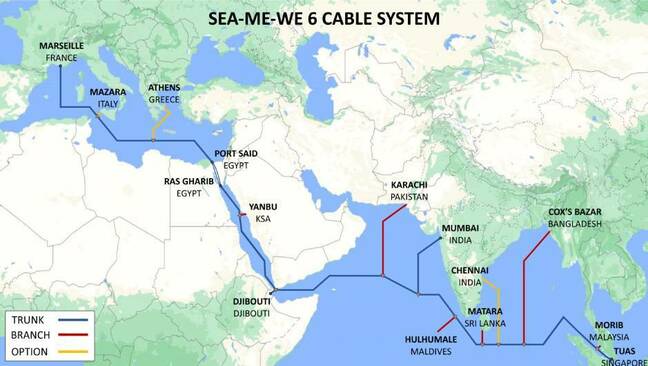 Click to enlarge
Singtel exec and cable consortium chairperson Yue Meng Fai said in a canned statement that the cable has been in the works for over two years as rising demand for connectivity amid global digitalization was predicted.
Turns out that prediction was not wrong, as broadband needs have increased even more significantly thanks to pandemic consumption habits.
The cable won't be ready until around Q1 2025.
As the name suggests, there are a few iterations of the SEA-ME-WE cables. The SEA-ME-WE 3, 4, and 5 all connect Europe to Asia, with some extending beyond.
In 2013, three scuba divers were arrested trying to sever SEA-ME-WE 4. That same cable, along with SEA-ME-WE 3, was damaged in 2008 by a ship's anchor. The incident took out 75 per cent of Egypt's internet access and had a ripple effect in other regions.
Given both its history and that digitalization is not expected to slow down any time soon, redundancy doesn't seem like a bad idea here. ®