This article is more than 1 year old
AI really can't copyright the art it generates – US officials
Get ready for robot lobbyists to persuade robot lawmakers to pass robot-friendly laws?
AI algorithms cannot copyright the digital artwork they generate, the US Copyright Office has insisted.
Officials this month turned down a request brought by Stephen Thaler, founder of Imagination Engines, to register a copyright claim for a digital image he said was produced by machine-learning software. Thaler said the piece, titled A Recent Entrance to Paradise, was crafted by Creativity Machine, an automated system he invented and owned, and argued the software should be recognized as the author of the image.
The US Copyright Office's review board said although it accepted the code-generated picture was made without "any creative contribution from a human actor," the board could not fulfill the request. Today's copyright laws only protect "the fruits of intellectual labor" that "are founded in the creative powers of the [human] mind," the board said in a letter [PDF] directed to Thaler's lawyer Ryan Abbott.
"The office will not register works 'produced by a machine or mere mechanical process' that operates 'without any creative input or intervention from a human author' because, under the statute, 'a work must be created by a human being'," the review board added. It's the second time Thaler's application has been rejected.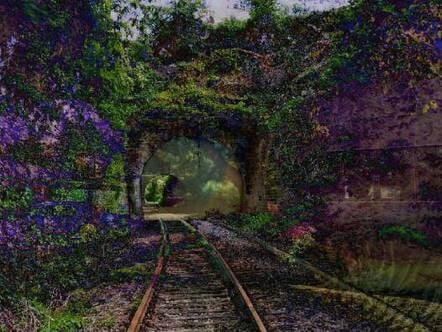 Trouble in paradise ... Artwork titled A Recent Entrance to Paradise said to be created by Stephen Thaler's Creativity Machine
In his first filing, in November 2018, Thaler claimed the image "was autonomously created by a computer algorithm running on a machine," and asked that his software be registered as the author of the picture. At the time, the US Copyright Office turned down his request, saying the relevant law only applies to human creators and not computers.
Thaler, however, argued the agency should reconsider since recognizing the AI authorship of images would "further the underlying goals of copyright law, including the constitutional rationale for copyright protection."
The office's review board has now backed the earlier decision, stating: "Much of Thaler's second request amounts to a policy argument in favor of legal protection for works produced solely by artificial intelligence. He cites no case law or other precedent that would undermine the office's construction of the Copyright Act. Because copyright law as codified in the 1976 Act requires human authorship, the work cannot be registered."
The board also rejected Thaler's argument that the piece was produced as a work-for-hire for a human, saying Creativity Machine can't itself enter a legally binding agreement to perform the task and that there was again no human authorship involved anyway.
Thaler has also fought trademark agencies in the US, England and Wales, and Australia to assign patents to another automated system he created known as DABUS.
"We disagree with the Copyright Office's decision and plan to appeal," Abott told The Register. "AI is able to make functionally creative output in the absence of a traditional human author, and protecting AI-Generated Works with copyright is vital to promoting the production of socially valuable content. Providing this protection is required under current legal frameworks." ®