This article is more than 1 year old
Schneider Electric says supply chain held it back
Anticipates 'increased pressure on input costs' on raw materials, labour, and freight
Schneider Electric is the latest tech biz to blame supply chain constraints for holding back its trading output, despite claiming record revenues of €28.9bn ($32.78bn) in its full year results for 2021 [PDF].
The energy management and industrial automation giant closed off the calendar year with a 7 per cent revenue spike to €7.9bn ($8.96bn) in Q4. This fed into record sales of nearly €29bn for the full year, up 12.7 per cent over the previous year.
However, according to Schneider chairman and CEO Jean-Pascal Tricoire, this performance was held back by supply chain issues hindering the company's ability to meet customer demand: "We could have done better if we would have had supply at the level of our demand."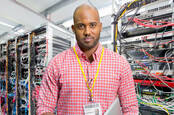 Your data centre UPS could feed power to the smart grid, suggests research
READ MORE
Tricoire claimed that in both of Schneider's main areas of business, energy management and automation, the company was seeing double-digit growth. Here, he was comparing 2021 with 2019, as the last stable year before the pandemic hit.
He said Schneider has seen an 11 per cent organic growth in product sales over that period, with particularly strong performance in OEMs, in the industrial sector, in data centres and in the residential sectors.
"We have had price actions throughout the whole year in front of a cost increase that we have never known at this level before. And this performance in growth in products could have been much higher because it has been impacted by supply chain pressures," Tricoire claimed.
Other companies have made similar statements regarding the effect of supply chain shortages on their ability to meet demand, such as networking firm F5 and GPU maker Nvidia.
Chief Financial Officer Hilary Maxson said demand for Schneider's energy management products, including its EcoStruxure advisers, grew by "strong double-digit" figures in 2021. Services were up 6 per cent for the year, impacted by shortages and coronavirus, particularly in the fourth quarter.
Schneider's net income was up 51 per cent from €2.126bn to €3.204bn for the prior calendar and fiscal year.
In terms of supply chain management, Maxson said Schneider's outstanding inventory had increased by around 15 days, primarily due to strategic stocking of components, in order for the business to be better placed to manage upstream tensions and lead-time extensions, and have a stock of finished goods to try to support customer demand.
"We would expect some reversal of this increase in days outstanding in 2022, although we'll continue to focus on resiliency and serving our customers," she stated.
Tricoire also said that Schneider will continue to be constrained by supply chain pressures, for at least the next several months. "We are going to see also increased pressure on input costs, which is a collateral of the supply chain pressures that will include raw materials, labour, and freight on the source of electric components," he said.
In November, Schneider Electric announced plans to build and equip three new manufacturing plants in North America, in order to increase its capacity to produce electrical products.
The firm also last year announced a partnership with IT distributors in the UK, Netherlands, Germany and Austria to deliver a managed power-as-a-service solution for customers, including Schneider uninterruptible power supplies. ®