This article is more than 1 year old
Watchdog rejects complaint over NASA IT contract
$1.8bn deal not tainted by ex-agency consultant, auditor finds
The US Government Accountability Office (GAO) has rejected a complaint alleging US system integrator Leidos nabbed a juicy NASA IT contract after engaging a former NASA official to help prepare its proposal.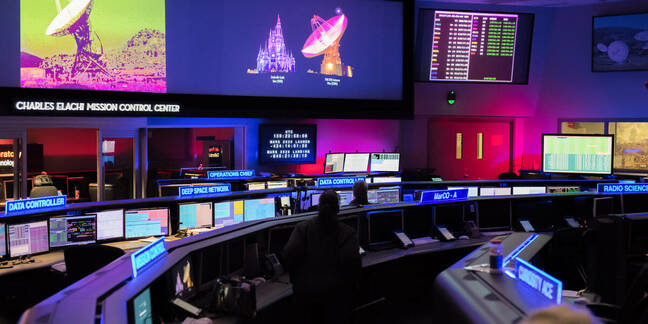 NASA's Jet Propulsion Laboratory (JPL), one of the space agency's centres whose local area networks are managed under the contract
The complaint from Science Applications International Corporation (SAIC) of Reston, Virginia, came in the wake of NASA awarding an agency-wide information technology and communications services contract for Advanced Enterprise Global Information Technology Solutions (AEGIS) to Leidos, also of Reston, Virginia.
Leidos and SAIC parted ways in 2013, with the former, a "solutions-focused" parent company spinning off its services business as SAIC. Before the split, contracts were occasionally passed up due to conflicts of interest. Now it appears up to the GAO to deal with squabbles.
The AEGIS agreement follows NASA's original NASA Integrated Communications Services (NICS) contract, which was awarded to SAIC in 2011 with a maximum potential value of $1.3bn.
The 10-year AEGIS follow-up has a maximum value of $2.5bn and was due to run from September 2021 through August 2031. Under it, Leidos is to provide telecommunications, cloud and data center services across all NASA centers and facilities.
A glance at the GAO report [PDF] shows both vendors scored highly, although Leidos just beat SAIC with a Mission Suitability Score of 902/1000 versus 826/1000, while undercutting the latter with an estimated cost price of $1.835bn compared to SAIC's $1.941, according to NASA's evaluation.
SAIC, however, protested the evaluation and complained that Leidos had "gained an unfair competitive advantage from engaging a former NASA official as a consultant to assist Leidos with proposal preparation."
During an earnings call last August chairman and CEO of Leidos Holding, Roger Krone, remarked that the award "was protested by the incumbent," before adding, "as it seems everything is nowadays."
He warned investors it might take a few months before things settled down and so here we are.
As for the GAO, it noted that "the contracting officer launched an extensive investigation into whether X had access to non-public, competitively useful information." ('X' being the unnamed retired NASA official.)
The GAO went on: "The contracting officer first concluded that X had access to non-public proprietary information and source selection information due to the high-ranking position the individual held at NASA before retiring.
"The contracting officer found, however, that the non-public proprietary and source selection information to which X had access was not competitively useful because the information had either become public or was outdated by the time initial proposals were due on November 20, 2020."
In a nutshell, the official had retired from NASA on 30 April 2020, before the issuing of the draft RFP and before the initial proposals were due. All in all, the GAO found that a "meaningful investigation" had been conducted and that the mystery NASA retiree "did not have any competitively useful information."
SAIC's other complaints were given short shrift, with the GAO concluding that NASA's evaluations were realistic and reasonable. "SAIC's allegations amount to nothing more than an incumbent protester's disagreement with the agency's decision," said the regulator's general counsel, Edda Emmanuelli Perez.
"The protest is denied," she added.
The Register has contacted SAIC to get its take on matters and will update this piece should the company respond. ®