An optical solution for business network challenges
Passive Optical LAN is the answer, says Huawei
Paid feature As organisations move towards their digital transformation, they are coming to realise that their current network infrastructure is not adequate to support their core business objectives.
A recent study from analyst house Forrester found that most networks today are only designed with IT connectivity in mind, not the needs of the actual business
As infrastructure and operations leaders continue to try and improve their networks to support ever greater digital workloads, to enable real business growth, the potential role of passive optical LAN (POL) technology has come into play.
Scaling And Maintenance Difficulties Cost Time and Money
Organisations using traditional copper-based networks face scaling difficulties as the network has to be expanded in response to the number of users increasing, and to cater for the amount of data that has to go over it as a result of business growth. If the network is not scaled efficiently, business processes will be impacted and mission-critical data will be slowed or even potentially lost.
To support increased workloads, IT teams are usually tasked with increasing bandwidth. However, upgrading a traditional Ethernet network requires a significant amount of cabling and construction work. On top of this, you also need more physical space for the extra cables.
And with traditional networks, maintenance staff at large companies also need to monitor thousands of ports, which can be difficult to monitor consistently. For organisations that operate TV, telephone and internet networks separately, it can become increasingly challenging to maintain them.
Any difficulty in conducting good network maintenance can also lead to safety issues. Ethernet networks commonly need a server room in each building or even each floor of the building. If their environments are not closely maintained in terms of cooling, and the multiple connections are not regularly inspected, there is the real danger of a fire.
In addition, copper-based networks also generate higher construction and installation costs through having to set up racks and cabling.
Passive Optical LAN is the Answer
Passive optical LAN (POL) solution provides a full-connectivity service over long distances in reconstructed/refurbished campus networks. This fibre optic technology reaches access points directly to reduce end cabling, and offers high bandwidth and low latency (reduced delay).
The hub-and-spoke architecture also simplifies the network design, and improves operations and maintenance efficiency, providing a future-proofed solution that protects enterprise investments.
Forrester Consulting conducted one of its Total Economic Impact (TEI) studies to examine the potential return on investment (ROI) enterprises might achieve by deploying Huawei POL.
To better understand the benefits, costs and risks associated with such an investment, Forrester interviewed four IT network decision-makers with experience of using Huawei POL. These users were from the education, healthcare, manufacturing and hospitality sectors. For the purpose of this study, Forrester aggregated the interviewees' experiences and combined the results into a single "composite" organisation, to evaluate the potential benefits of a POL network deployment over a traditional one.
Prior to using POL, these interviewees all expressed how their organisations faced challenges in operating and scaling their networks.
Benefits
As can be seen from the composite organisations (equivalent to an enterprise campus with 6,000 information points) built from these early adopter interviews, moving to all-optical LANs is an effective way to future-proof your networking infrastructure, remove scaling issues and permanently reduce maintenance costs.
Forrester found that present value (PV) quantified benefits from using POL at composite organisations included improved network maintenance efficiency by over 60 per cent. The total benefits were over $907,000, versus costs of almost $311,000. That adds up to a total net present value of over $596,000, and a return on investment (ROI) of 192 per cent when using POL.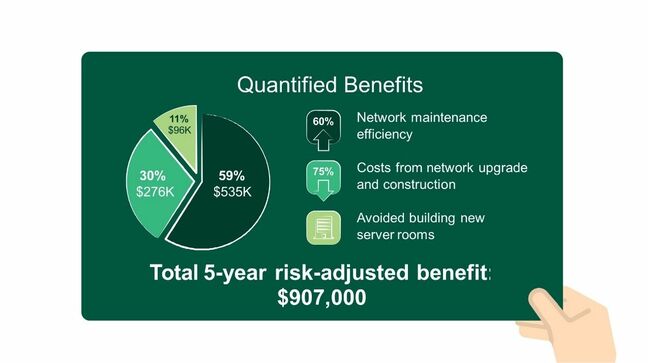 From the study: The Total Economic Impact™ Of Huawei Passive Optical LAN
Many organisations have already got the message about this, with market revenue figures showing that the Passive Optical LAN market has already entered the mainstream and is set to grow rapidly.According to a TechNavio study published in February 2022, POL global revenues will grow by $21.85bn over the next five years at a CAGR of 17 per cent.
Optical splitters are an essential component of a POL network, that enable the deployment of a point-to-multipoint physical fibre network, with a single optical line terminal (OLT) port serving multiple optical network units (ONUs).
Splitters enable connections with ONU devices with limited cabling work, which significantly reduces operational workload. OLT monitoring software can examine the entire network and alert operators when faults occur.
Before Huawei POL, the composite organisation, as mentioned above, needed three network operators to manage each building. After deploying Huawei POL, it only required one operator.
Over five years, said Forrester in its TEI, network maintenance efficiency improvement saved the organisation over $535,000. It also saved over 75 per cent in construction costs for network expansion. In prior environments, increasing bandwidth required a lot of construction and installation work, like setting up the previously mentioned racks, cabling and copper wire.
This is because optical networks require less construction work thanks to their splitters. Over five years, the composite organisation saved about $276,000 by avoiding traditional network switch upgrades and construction work.
The composite organisation also avoided building additional server rooms. The organisations that spoke to Forrester added that they needed to pay management and rental fees for these multiple server rooms. Over five years, the composite managed to avoid over $96,000 in expenses by not building new server rooms.
After their investment in POL, all the interviewees confirmed they had experienced improvements in network maintenance efficiency, cost savings for future network expansion, and reduced space and management needs for server rooms.
As for the costs of the new deployment, the PV costs included overall device and services costs of about $221,000 over five years. As well as an OLT, splitters and ONUs, there are also additional costs for OLT software, services and device configuration. In addition, construction costs of over $74,000 over five years were levied for the composite. The organisation deployed four-port ONUs, and this cost included cabling. And internal planning and deployment came in at about $16,000 over five years.
In addition to savings in running costs, Huawei's POL also delivers sustainability benefits to help companies improve their ESG (environmental, social and governance) performance. POL can reduce hardware-heavy upgrades, trim building construction activity, improve network integration using a future-proofed technology platform, and reduce energy consumption through more efficient network connectivity.
So these are the hard figures and some other reasons why POL is a good alternative to slower and more expensive traditional networks, but what do actual POL customers say?
Hospitality
Prior to using Huawei POL, Villaggio Orizzonte, an Italian tourist village located on the coastline of the Tuscan Sea, needed separate networks for internet, TV and telephones. This was hard to maintain and scale, with the copper wires easily damaged in natural environments. The network was also unstable.
Villaggio Orizzonte technical director and board member Giampaolo said: "It has become essential to provide a strong and secure internet connection to all our guests." The organisation decided to replace its previous networks with Huawei POL technology, to deliver such a connection.
The organisation deployed Huawei's Fiber to the Office (FTTO) Solution to roll out its new private network, and it has improved network reliability and delivered space savings. In addition, the network is also using less energy to run, helping Villaggio Orizzonte to reduce its carbon footprint by over 6,500kg per year, which is the equivalent of planting 300 trees.
Manufacturing
To guarantee steady efficiency upgrade and quality control, one of the largest steel companies in China has applied comprehensive video analysis to the production process. This required an upgrade for a new networking infrastructure that was adaptable to harsh industrial environments and capable of handling large bandwidth.
The company selected Huawei's optical network terminals, which are designed to resist high temperatures that can cause traditional solutions to fail over time. Upon the deployment, the Huawei's Fiber to the Machine (FTTM) Solution, steel production in the plant is fully automated, and this has enabled the company to eliminate safety hazards that manual processes entailed.
These, and other customers, are clearly benefiting from the advantages that come from migrating from traditional networks to all-optical ones.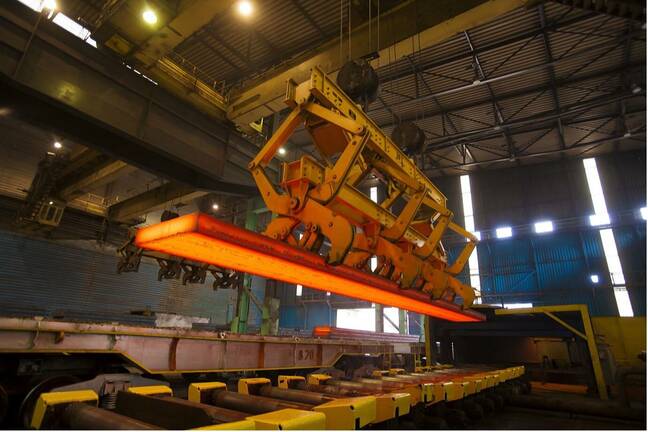 MWC 2022
Huawei will team up with industry partners at Mobile World Congress (MWC) 2022 in Barcelona, to showcase innovative solutions and practices, spanning government and public sector to finance, transportation, energy, manufacturing, and Internet Service Providers (ISPs).
At MWC 2022 Huawei will focus on industrial digital transformation, digital infrastructure innovation, and carbon emissions reduction. In addition, Huawei will release a series of scenario-based industry solutions, full-stack data centre and intelligent campus solutions, as well as the company's latest datacomms, optical, and storage products.
To find out more, check out Huawei Enterprise at MWC 2022.
Sponsored by Huawei.