This article is more than 1 year old
Fujitsu claims world leadership in headache management
For actual headaches, not tech messes, but hasn't said why its staff have a problem that needed tackling
Fujitsu has been hailed as the world's leading company by the International Headache Society's World Patient Support Association.
So yeah, it turns out there's actually an International Headache Society. But that's not even the big news.
An announcement on Fujitsu Japan's web site explains that the company surveyed staff and found 85 per cent were aware of headaches or migraines, but 84 per cent had never had them treated. Internal calculations found the total cost of headaches was $22.5 million a year, or $866 per worker with headaches and $2,250 for migraine sufferers.
Those numbers were worse than those across most of Japan, so the company devised the Fujitsu Headache Project.
The project ran from 2019 to 2022 and saw over 70,000 staff offered e-learning sessions about how to manage the affliction, online consolations, sorry, consultations with headache specialists, and useful exercises for sufferers.
Return on investment is yet to be determined, but Fujitsu Japan feels the effort has probably made a difference to quality of life for its staff in Japan.
The company can also point to a shiny new object: a certificate from the International Headache Society attesting its commitment to addressing the scourge of headaches. Fujitsu asserts it is the first company to be celebrated in this way.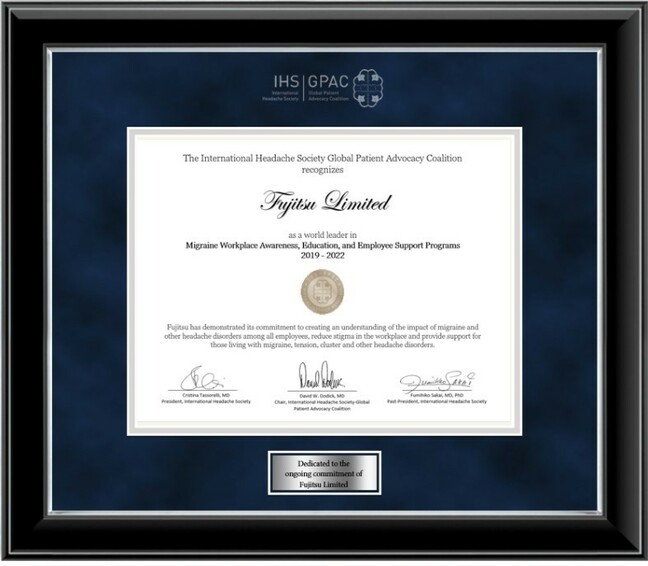 Fujitsu's headache award. Click to enlarge
The Register recognizes that chronic headaches are no joke – this Vulture's middle-aged spine can crank up debilitating bouts if taken for granted. But news of the prize left us wondering: why do so many Fujitsu staff have headaches?
Japan's working culture continues to assume staff working very long hours (and occasional heavy drinking), which can aggravate the noggin. Companies like Fujitsu have also come under pressure in recent times as big buyers like Japan's government seek alternative suppliers that are seen as more likely to get things done quickly and cheaply. Stress is definitely a headache precursor. The demise of Fujitsu mainframes may well have made a contribution.
Whatever the cause, at least Fujitsu made an attempt at a remedy. ®