This article is more than 1 year old
ZTE summoned to US court for allegedly breaking trade sanctions probation
Case relates to alleged conspiracy to illegally bring over Chinese nationals
Chinese telecoms kit maker ZTE is being summoned to court in the US for a hearing over possible revocation of probation after it pleaded guilty in 2017 to violating trade sanctions by illegally shipping US tech to Iran.
The hearing is linked to allegations involving a former ZTE employee accused of conspiring to bring Chinese nationals into the US illegally, although ZTE itself does not appear to be facing charges in that case.
The original case saw ZTE plead guilty five years ago to breaking trade sanctions against the state of Iran by shipping $32m worth of US-made components for routers, switches, servers, and mobile phone network equipment to the Middle East nation through various China-based subsidiaries, and then attempting to cover up the dealings, as reported by The Register at the time.
In addition to accepting a fine, ZTE agreed at the time to cooperate with US authorities in any further investigations, including those into possible criminal wrongdoing by individuals at ZTE and its subsidiaries.
In the latest development on Friday 4 March, ZTE received a US court order [PDF] notifying the company that it must participate in a revocation of probation hearing scheduled for 14 March.
According to a statement sent to the Hong Kong stock exchange [PDF], ZTE informed it of the court order and said it understands the hearing is related to the indictment last year of a former ZTE employee, Jianjun Yu, who is accused of involvement in a conspiracy to fraudulently obtain J-1 Visas for Chinese nationals to come to the US to conduct research at the company.
The US J-1 Visa programme is not intended for general employment of foreign workers in the US in such a manner. Instead, it is for approved individuals to participate in specific work and study-based exchange visitor programmes with sponsor institutions such as the Georgia Institute of Technology. The other person charged in the visa case is Gee-Kung Chang, a professor at that educational establishment.
However, the statement sent to the Hong Kong stock exchange, signed by ZTE chairman Li Zixue, claims that ZTE itself is not facing charges. It states that Jianjun Yu had already left the company several years ago, and that as of the date of the statement, no corporate member of ZTE Group had been charged in connection with the visa case.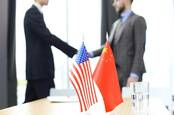 Chinese tech giant ZTE is back in business – plus or minus $1.4bn and its entire board
READ MORE
ZTE said it will take all practicable next steps under the legal framework to properly handle the relevant matters, and if there are any major developments in the case, it will make further announcements in line with the relevant laws and regulations.
If ZTE is found to have violated the terms of its probation, it may be subject to further fines. In 2018, ZTE was fined $1bn and ordered to place another $400m in escrow against any future penalties as a result of failing to punish staff who were involved with the shipments to Iran. ZTE was supposed to dismiss those responsible, but instead apparently paid them bonuses.
The Register has asked ZTE to comment. ®