This article is more than 1 year old
'Significant business growth' fueled Microsoft's emissions rise
Sustainability report blames carbon generated from data center builds, Xbox sales and usage
Microsoft has published its annual sustainability report for 2021 [PDF], claiming to have reduced its own CO2 emissions by about 17 percent year-on-year, but with a bigger carbon footprint overall than it had last year, showing that "progress won't always be linear".
In 2021, Microsoft generated 14.072 million metric tons of CO2e, by its own estimation. That's up from 11.58 million metric tons of CO2e the year before – an overall 21.4 percent increase.
Announcing the report, Microsoft president and vice chair Brad Smith said that the past year had provided the company with critical experience for its stated goal of becoming carbon negative by 2030.
He said Microsoft would apply what it had learned to strengthen its efforts to reduce the Scope 3 emissions, those resulting from the so-called value chain. In other words, that's emissions from third parties — so the "carbon emissions associated with the construction of new buildings including both data centers and office space" as well as "new server equipment needed to support growing customer demand."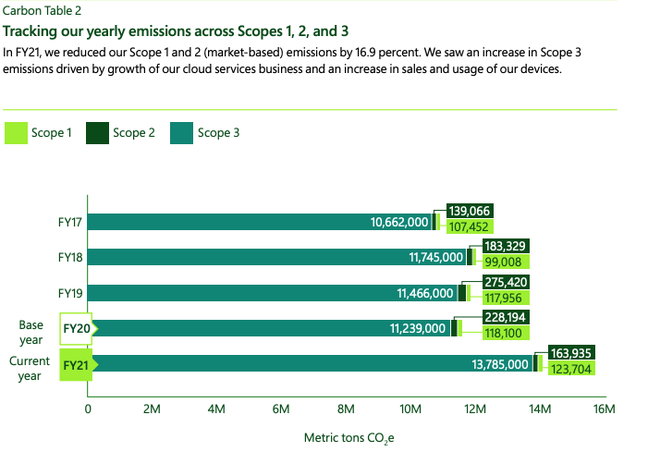 Click to enlarge
"Our emissions outputs took place against a backdrop of significant business growth in 2021. In this time period our business revenue grew by 20 percent. We significantly expanded our global data center footprint to meet the increased demand for Microsoft's cloud business and we saw a growth in devices sales," Smith explained.
In response, Microsoft said it has adapted the way it sets carbon targets and increased the frequency and scope of internal reporting, to deliver greater transparency and better informed decision making across the company.
Microsoft's report states that it managed to reduce its own operational emissions for 2021, represented by Scope 1 and 2 combined, by approximately 16.9 percent through the purchasing of renewable energy.
But that 20 percent revenue growth was reflected in increased use of Microsoft's devices and cloud services and a "growth in Xbox sales and usage as a result of the pandemic" and this means that the firm's total Scope 3 emissions have increased by about 23 percent for the same period.
Under the Greenhouse Gas Emissions (GHG) protocol, Scope, 1 covers emissions resulting directly from an organization's operations, Scope 2 includes indirect emissions from operations that are not wholly under the organization's control, such as from generated fuels, while Scope 3 includes emissions generated in the "value chain."
"Scope 3 emissions are the most difficult to control and reduce," Smith commented.
Microsoft's report highlights "capital equipment" as a Scope 3 category that saw an annual increase, and this includes emissions generated in production equipment the company bought, plus those associated with the construction of new datacenters and office space.
One of the takeaway lessons Microsoft therefore offers for other organizations is that "progress won't always be linear", because the rate at which it can reduce emissions depends on a multitude of factors, some of which will change over time. These include the organization's own business growth and its suppliers, and the rate of growth of green infrastructure, such as the availability of renewable energy sources.
Consultants McKinsey & Company agree, stating in an article covering supply-chain decarbonization last year that Scope 3 emissions present an additional layer of complexity.
This includes variations in carbon accounting and tracking practices; the need to work collaboratively with customers, supply networks, and industry groups; and the difficulty of keeping stakeholders engaged in a complex multi-year effort to bring about change, the consultant said.
McKinsey claims that carbon accounting practices at most companies today are at the same level cost accounting was 40 years ago and warned that "CFOs and other business leaders will likely require much more accurate, granular, and timely emission transparency to run the business in the future."
Microsoft said it is addressing these issues through moves such as its updated Supplier Code of Conduct, where in-scope suppliers report their emissions.
According to Smith, Microsoft made the world's largest carbon removal purchase last year, at 1.4 million metric tons, and the company is set to exceed that this fiscal year by procuring a further 1.5 million metric tons of offsets.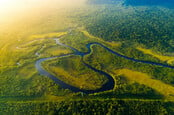 Amazon: Our carbon footprint went up 19% last year but we grew even more than that, so 'carbon intensity' is down
READ MORE
All of this pales in comparison to Amazon's most recent carbon emissions report, released last year, which said that in 2020 it had a total carbon footprint of 60.64 million metric tons of CO2e – up 19 per cent on the year before. Amazon too, totted up the total amount accounting for its entire global business including energy consumption, transport costs, and packaging. Compared to Microsoft, the giant saw a much larger upswing in scope 1 emissions - it was up 67 per cent year-on-year from 5.76 metric tons of CO2e to 9.62 million metric tons of CO2e. Scope 3 emissions only went up 15 per cent – but they made up a significant proportion of the total both before and after – going up from 39.91 million metric tons of CO2e in 2019 to 45.75 million metric tons of CO2e in 2020.
Microsoft also disclosed that it made a $100 million grant to The Catalyst Program to accelerate the development of clean technology, and has allocated $471 million so far to a Climate Innovation Fund for the development of carbon reduction and removal technologies, plus related climate solutions to reduce water and waste.
In a related initiative, Microsoft is continuing to work on its Circular Centers program, which aims to achieve zero waste for its data centers by 2030. The first such site is in operation in Amsterdam, with a second under construction in Boydton, Virginia, and three more are to be added during 2022.
These are sites where servers and hardware that are being decommissioned from Microsoft data centers are repurposed, and Microsoft said that it is on track to increase the reuse of servers and components by up to 90 percent by 2025. ®