This article is more than 1 year old
Intel to spend €17bn on chip mega-factory in Germany
x86 giant also expands manufacturing in Ireland, plus R&D and packaging across Europe
Intel has laid down its grand plans to build chip factories in Europe, which will start with a €17bn ($19bn) mega-site in the city of Magdeburg, Germany.
The x86 titan on Tuesday said the facility is part of a €33bn ($36bn) investment in manufacturing, research and development, chip design, and foundry services across Europe. The cash will be used to expand operations in Ireland, open an R&D and design hub in France, and spin up manufacturing, foundry, and packaging services in Italy, Poland, and Spain.
"Today 80 percent of chips are produced in Asia," Intel CEO Pat Gelsinger said during a webcast to announce the European investment. "Our landmark pan-European investment addresses the global need for a more balanced and resilient supply chain."
The first phase of this project will include factories in Magdeburg, Germany, which will occupy the space of two World Cup-class football fields. Gelsinger said the plants will make chips using Intel's most advanced transistor technology, though no further details or specifics were provided. The company plans to break ground at that location in the first half of 2023, and produce components by 2027.
He dubbed the German mega-site "Silicon Junction," a riff of the terminology used in chip design.
"Still, there is work ahead to secure the necessary construction and other permits as well as the financial support needed to make the project competitive," Gelsinger said.
The financial support referenced by Gelsinger for the mega-site in Germany could be tied to the European Union passing the EU Chips Act, which opens up €43bn of investments up to 2030 to boost chip manufacturing capacity on the continent and mitigate chip supply chains.
Intel is partially relying on subsidies and funding from governments to establish new factories. It's not clear when the EU Chips Act will pass, or to what extent Intel's plans will change if it doesn't.
The star guest on Intel's webcast on Tuesday was European Commission President Ursula von der Leyen, who plugged Intel's fabs, and said "our goal is to have 20 percent of the world's microchips production in Europe by 2030. That's twice as much as today in a market that is set to double in the next decade."
She showed some geekiness by saying Europe needs to reach the cutting edge of chips by "breaking the three-nanometer node barrier, creating energy efficient chips and also developing new technologies, new products and applications that our minds can't even conceive today."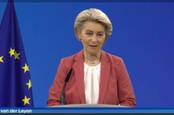 EC president promises European Chips Act to quadruple homegrown production by 2030
EARLIER
Europe doesn't have a big chip manufacturing infrastructure. GlobalFoundries is a notable presence with factories in Dresden, Germany, which is about 230km by road to Magdeburg, where Intel plans to set up its facility.
Gelsinger, who appeared in US President Joe Biden's state-of-the-union address this month, has also urged Congress to pass a $52bn bill to help semiconductor companies build factories, and to fund research and development. Intel previously announced it would build a $20bn factory site in Ohio.
The super-fab in Germany will craft Intel and non-Intel chips, which will help Europe's efforts to create homegrown processors and exascale computers. The EU-wide partnership called the European Processor Initiative has led to the development of microprocessors like Rhea, an Arm-based chip with RISC-V controllers, which is due to appear in next-generation exascale computers.
Intel recently pledged $1bn to bankroll chip design and development of non-x86 architectures, such as RISC-V. Intel is also, as mentioned above, setting up so-called feeder sites across Europe in the form of R&D, services, and packaging facilities that should bring more business to its Germany factories. The expansion effort is part of Intel's IDM 2.0 strategy; that's Integrated Device Manufacturing.
Italy and Intel are in negotiations to enable a state-of-the-art back-end manufacturing facility with a potential investment of up to €4.5bn.
Intel is also in the midst of a $5.4bn acquisition of Tower Semiconductor, which has factories in Italy, America, and Japan. Tower's Italy facility is near Milan, where ST Microelectronics is also establishing a factory to make chips for applications including power management. The STM fab, which is basing its future on silicon carbide, is expected to start production this year.
"The collaboration with ST Microelectronics will be a catalyst for further expansion of Intel foundry services throughout Europe, to serve key sectors like automotive, industrial, personal electronics applications that need more chips now," Gelsinger said.
France will be Intel's hub for its R&D initiatives. The x86 goliath plans to create 1,000 new high-tech jobs in the country, with 450 jobs available by the end of 2024.
We also plan to establish our main European foundry design center in France
"We also plan to establish our main European foundry design center in France, offering design services and collaterals to French, European, and worldwide industry partners and customers," Gelsinger said.
Philippe Notton, CEO of chip design firm SiPearl, said Intel will fill a big manufacturing gap in Europe, and will boost the R&D ecosystem in France. Intel's European research hub will be in Plateau de Saclay, France, which is close to SiPearl's office in south Paris.
SiPearl developed the Rhea processor with funding from the European Processor Initiative. The biz will pair the chip with Intel's Ponte Vechhio GPU-based accelerator for supercomputing applications.
"SiPearl is building the European microprocessor for high-performance computing and sees great value in European-based leading-edge foundry services of Intel's caliber," Notton told The Register.
In Spain, Intel plans to establish a supercomputing research center with the Barcelona Supercomputing Center. Intel and BSC have worked on exascale computing, and are now working together on a zettascale architecture, Gelsinger said. BSC is one of the premier research technology institutions in Europe, and is part of a larger scale effort for European Processor Initiative initiative.
In Gdansk, Poland, Intel is increasing its lab space by 50 percent to boost research in the areas of deep neural networks, datacenter, and cloud computing.
Intel's big bet on Europe comes as chip manufacturers plow more money into building factories. Research firm IC Insights is expecting capital expenditure by chip companies to reach an all-time high of $190.4bn in 2022, up from $153.9bn in 2021.
IC Insights projects TSMC leading the pack with a $42.4bn commitment in 2022, growing by 40 per cent from 2021. Intel was in second place, with a $27.4bn capex, growing by 44 percent compared to 2021.
"We do not believe that the war in Ukraine will have an effect on the semi fab investments in Europe as these are long term strategies. If the war would extend to NATO countries in Europe, things may be different," IC Insights president Bill McClean told The Register.
Gelsinger acknowledged the war in Ukraine at the start of the webcast.
"At Intel, we continue to stand with the people of Ukraine and the global community in condemning this war. My thoughts and prayers are with all those in Ukraine, the surrounding areas and around the world. are impacted, I hope for a swift return to peace," he said. ®