This article is more than 1 year old
SAP to repay $23.1m in water contracts settlement
Tribunal finds evidence of 'irregularly concluded software, support agreements'
Global application giant SAP is being ordered to pay South Africa's Department of Water and Sanitation ZAR 345m ($23.1m) after a couple of contracts between the two parties were set aside by the courts.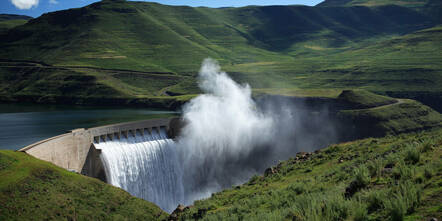 Mist rising above the Katse dam wall in Lesotho, which exports water to SA's water scarce regions. Katse also generates power for Lesotho, which is self-sufficient in electricity production
The Special Tribunal South Africa also ordered that the department may not use any of the software licensed under the pair of agreements, formed in 2015 and 2016.
According to a ruling, elements of which the Special Tribunal South Africa has released on Twitter, the German software giant was ordered to pay ZAR 413m ($27.7m) as the contract between the two parties was set aside by the courts, with ZAR68.3m ($4.6m) subtracted for the yearly maintenance due under the agreement for the period from 2016 to 2021.
The order follows an inquiry by South Africa's Special Investigating Unit which "revealed that the department irregularly concluded software license and support agreements with SAP," its statement on Twitter said.
The Unit said it had uncovered "evidence of wrongdoing" and by agreement, the SIU together with the department and SAP declared the contracts "invalid and unlawful."
Reporting from South Africa's News24 said that a Special Investigating Unit probe, which began 2018, found that the purchase of SAP licenses for more than ZAR 500m ($33.4m) was "not necessary and were procured without the correct tender process being followed."
It also uncovered allegations that ZAR 35m ($2.3m) in kickbacks were paid after the department procured the SAP service in 2016.
SAP welcomed the settlement.
"Following a comprehensive investigation relating to the sale of SAP software licenses to the South Africa Department of Water and Sanitation the Special Investigating Unit (SIU), the DWS and SAP (South Africa) PTY LTD have together reached a settlement," a spokesperson said.
"DWS remains an SAP customer and SAP continues supplying and maintaining DWS's software investment, working towards improved billing and better service delivery.
"SAP remains committed to maintaining a robust, world-class compliance program so that, together with its global network of customers, partners, employees and thought leaders, we can help the world run better and improve people's lives," it said.
The investigation team also found that no needs analysis had been carried out and that the department had not secured the budget for the SAP license. Meanwhile, the State Information Technology Agency (SITA) had not been consulted.
The investigating team also made "disciplinary referrals" to the department against two senior officials.
It said in a statement: "The Special Investigating Unit was informed that [a disciplinary hearing] against one senior official has been concluded and judgment is expected within this week, while the DWS is considering disciplinary action against the other official."
Investigators have also referred evidence pointing towards criminality to the National Prosecuting Authority, the Asset Forfeiture Unit and South Africa Revenue Service, in line with the SIU Act 74 of 1996. ®