This article is more than 1 year old
General Dynamics bags $4.5bn hybrid cloud deal with US spy sat agency
Ten-year deal goes ahead after rival Leidos withdraws bid protest
General Dynamics, a top US aerospace and defense company, won a ten-year contract to revamp America's National Geospatial-Intelligence Agency's cloud infrastructure in a deal worth up to a whopping $4.5bn.
The General Dynamics Information Technology (GDIT) unit will build hybrid cloud services, incorporating a mixture of commercial cloud platforms and on-premises datacenters. This infrastructure will support a range of capabilities, including supercomputing, virtual desktops, DevOps environments, platforms-as-a-service, communication services, and and secure mobile and wireless networks across the intelligence agency's locations.
Under the Department of Defense, the NGA primarily collects and analyzes geospatial satellite imagery to aid combat missions. It also provides geospatial intelligence to assist operations in natural disasters and in climate-change research.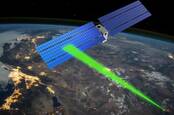 China launches test satellites for orbiting broadband service
READ MORE
In 2016, the agency announced it was building a campus in St Louis, Missouri, dubbed the Next NGA West project. As the NGA started thinking about setting up datacenters to support the facility, it announced details for a "user-facing and data center services" contract in 2019.
Now, that contract has officially been awarded to GDIT. The decision was announced back in December 2021, but was challenged when competitor Leidos protested against the deal to the Government Accountability Office. Leidos has since withdrawn its complaints.
GDIT will be in charge of migrating existing cloud data, managing security, and getting services up and running.
"We are proud of our longstanding partnership with NGA and look forward to this opportunity to continue to leverage our portfolio of innovative technologies and services to advance the geospatial mission," Amy Gilliland, GDIT president, said in a statement. ®