This article is more than 1 year old
We take Asahi Linux alpha for a spin on an M1 Mac Mini
We didn't have high hopes for our sacrificial machine but were pleasantly surprised
Hands on How was your weekend? Ours was spent trying to persuade the first Asahi Linux Alpha release to run on some Apple silicon.
The Alpha turned up at the end of last week and, sacrificial M1 Mac Mini in hand, we had a crack at firing up the distribution.
Our hopes were not high – the poor device has also put in service running Insider builds of Windows on Arm (via the Parallels Desktop) and its disk was bulging with all manner of experimental software.
But it all seemed boringly reliable considering the "alpha" and "proceed at your own risk" labels plastered over the distribution.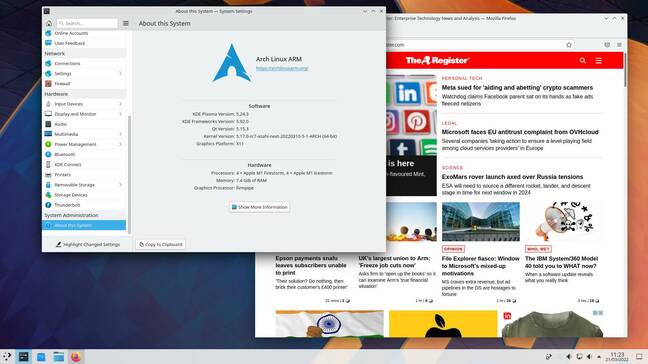 Asahi Linux on M1 Mac
Ours is a base-level Mac Mini, with just 8GB of RAM and a 256GB SSD. Asahi Linux recommends 53GB of free disk space, which we were able to liberate relatively easily (in fact, by the time we kicked off the installer, we had 90GB free). We also used wired Ethernet (although Wi-Fi apparently works – more on that later), a keyboard and mouse connected via USB, and a display plugged into the HDMI socket.
Once updated to macOS 12.3 (which was the lengthiest bit of the process) we pasted curl https://alx.sh | sh into terminal, hit enter, and held our breath.
It was all a bit anticlimactic. The installer takes care of resizing partitions to make space for Asahi Linux's needs without erasing macOS's area (meaning there was a way back once playtime was over and dual-boot is possible) and pulling down what is necessary to make the installer do its thing.
We'd also have to echo the installer's warning that the system seems to freeze while the resize happens, but stick with it.
The only potentially tricky bit comes when the installer needs to shut down the system. Once the go-ahead is given, it is very important to wait until the shutdown is complete (in our case, we waited until the baleful glow from the white light on the front finally died) and then hold down the power button until the startup options screen appears, replete with an Asahi Linux option.
This takes around 25 seconds, in our experience.
More prompts followed, ending with another reboot and a heart-stopping black screen.
There's a good chance that our far-too-clever monitor might have taken exception to the video output, but another lengthy push of the power button and the selection of Asahi Linux again conjured a graphical setup wizard and, minutes later, we were looking at a Plasma desktop.
Performance is good. Considering this is an alpha, the "customized remix of Arch Linux Arm" rocks along at an impressive pace despite the lack of GPU acceleration.
We didn't try any other distros at this stage, although the Debian walkthrough looks tempting. Otherwise, it all felt like just another Arch Linux install, albeit a particularly snappy one.
There is some bad news though. Sound doesn't really work properly (we tried a headphone jack, but it was intermittent) and persuading the customized version of Arch Linux ARM to go beyond 1920x1080 for our fancy widescreen monitor looks like it requires some config file edits.
A lack of Bluetooth is also annoying (requiring peripherals) and Wi-Fi is also temperamental. Much of these limitations (and more) are discussed in the release notes.
However, compared to all too many bits of code with the "alpha" label, Asahi Linux seems both robust and impressively far along in its development. This writer is neither a developer nor a power user, but had no difficulty in bringing up the desktop.
We look forward to development continuing apace and maybe, one day, deleting that macOS partition once and for all. ®