This article is more than 1 year old
Nvidia's Omniverse heads to the cloud
Plethora of updates for what the GPU giant believes will be its 'biggest growth driver this year'
GTC Nvidia wants to help you build digital twin worlds, provided you have the cash and the patience.
Nvidia had a load of news surrounding its Omniverse platform to announce at its GPU Technology Conference (GTC) 2022 on Tuesday. Nvidia VP of enterprise visualization Bob Pette started with what amounts to an announcement of how well Omniverse has performed in the past year: "We believe our biggest growth driver this year will be Omniverse."
The Omniverse ecosystem, launched last year, has grown by a factor of 10, said platform VP Richard Kerris, with major players like Unreal Engine, V-Ray, Blender, and others adding connections into the tech. Omniverse is Nvidia's suite of software for creating 3D spaces in which one can produce simulations and do design and engineering work, and operate on so-called digital twins of real-life structures for maximum possible realism. It's content and blueprint creation, collaboration, and testing in virtual reality, if you want to be blunt about it.
The big new announcement: Omniverse Cloud
Of all the new features announced at GTC, Omniverse Cloud may be the most interesting. Nvidia said it's exactly what it sounds like: "A suite of cloud services that gives artists, creators, designers, and developers instant access to the Nvidia Omniverse platform."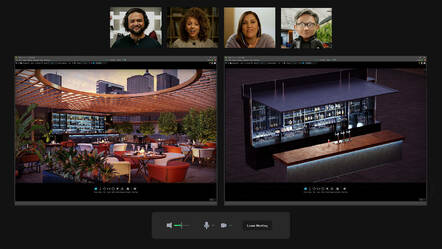 A view of collaborators in an Nvidia Omniverse Cloud instance
Omniverse Cloud uses Nucleus (in this case, Nucleus Cloud) as the center of its software universe. Nvidia describes Nucleus Cloud as a "one-click-to-collaborate" tool that allows sharing and editing of large 3D scene files with the help of backend systems. How do you edit and view those scenes? Via Omniverse Create and Omniverse View, the same apps used in on-prem Omniverse setups, but from the cloud. It'll work in the same way as Nvidia's GeForce Now web-streamed gaming service, which can be viewed in a browser.
"What this really means is, whether you're on a Chromebook, Mac, tablet, or any other device that you use to connect to GeForce [Now], now you'll be able to stream, create, and view to your systems, and work and collaborate with other Omniverse customers," Kerris said. 
Unfortunately for those interested in jumping into the Omniverse Cloud, it's still "under development." There is a Nucleus Cloud early-access program available, though.
Omniverse-tailored hardware
Nvidia also announced hardware for running "industrial" digital twins, equipment that it called OVX, which it said "is built to operate complex simulations that will run within Omniverse, enabling designers, engineers, and planners to create physically accurate digital twins and massive, true-to-reality simulation environments." 
OVX servers are big: eight A40 GPUs, three Nvidia ConnectX-6 Dx 200Gbps NICs, 1TB of system memory, and 16TB of NVMe storage. Those individual servers are configurable in pods of eight, all the way to an OVX SuperPOD made up of "32 OVX servers connected with Nvidia Spectrum-3 switch fabric or multiple OVX SuperPODs," the biz said. 
OVX servers and SuperPODs will be available later this year from Inspur, Lenovo, and Supermicro.
Other Omniverse announcements
Omniverse Enterprise on Nvidia LaunchPad, a free turnkey app for enterprises looking to demo Omniverse capabilities, was expanded to nine regions, and additional labs and pre-populated scenes were added too. 
A host of other new features and tools were added, and major updates include:
Omniverse Code, an IDE for building extensions, apps, and microservices for Omniverse
DeepSearch, a new AI-based natural language search service for combing through untagged 3D asset libraries, now in early access for Omniverse enterprise customers
Omniverse Replicator, a framework for accelerating perception network training
Omniverse Avatar, announced in November 2021
An Omniverse XR app is being developed for VR-optimized use of Omniverse View
OmniGraph, ActionGraph, and AnimGraph are all getting major new releases
Omniverse Kit, Create, View, and Machinima are all getting new versions
There are a lot of little announcements, too, so be sure to read Nvidia's full rundown of new Omniverse features. ®