This article is more than 1 year old
SAP wins competition to replace own ageing system at UK council
£7m Gloucestershire County Council deal the first for RISE with SAP in the UK public sector
Gloucestershire County Council (GCC), a public authority in the sleepy west county of England, is preparing for a major upgrade to its ERP system in a project using the so-called "RISE with SAP" program.
A contract award notice says the authority has signed a £7.3m contract with the German software giant for the "further competition for the cloud-hosted software as a service Resource Planning System (sic) known as SAP RISE (sic)."
Although small, the deal marks a milestone in SAP's push with its RISE program into the UK's public sector.
RISE with SAP is the application vendor's effort to get customers in the cloud. It offers "one hand to shake" dealing with third-party development and cloud infrastructure providers on the behalf of the customer.It was launched in January 2021, not long after SAP was forced to reset market expectations on cloud growth – a move which caused a 23 percent fall in share price in the previous autumn.
While SAP's exec team said last year deals for RISE had been "extremely healthy", the programme was only launched officially in the UK public sector earlier this month, more than a year after its global kick-off. According to figures from government contract data-watcher Tussell, the UK public sector spent £10.2bn on IT and communications in 2021.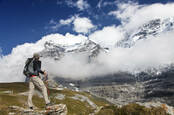 SAP's lift-and-shift-to-the-cloud plan will need more than CGI to convince users it has a clear vision for ERP
READ MORE
At an online launch event for RISE with SAP in the UK public sector, Steve Mawson, executive director of corporate resources for GCC, said he believed the council was one of the first from the UK public sector to "jump into bed with SAP on the RISE product."
"We want to share our experience with the public sector. We are we want to learn what others can do as well as what SAP partners can do, using all our information on best of breed applications such as finance, HR procurement, and trying to link those better, in a better way for a modern workforce," he said.
"We've used extensive evaluation in the market and we found that SAP's product gives us our best fit in terms of value for money and the future-proofing that we're trying to get out of our product going forward. It takes investment of time and energy to get to those future positions," he said.
Mawson said the council was currently out to tender to find a systems integrator for the SAP project.
The council has been using SAP for HR, payroll, finance, procurement and employee and manager self-service since 2007, according to a council document from 2021. The system had had "little investment, and is now considered to be largely outdated, not user-friendly and does not support the Council's digital strategy," the document [PDF] said.
The document recommends the move to a SaaS solution for ERP and points out that, if its goes live before December 2023 "there would be a cost avoidance of £0.5m which would be required to keep SAP servers running."
The council Cabinet approved its replacement of the old SAP system in June 2021 [PDF], launching the procurement of a new system and implementation partner "with a go-live date anticipated in 2024."
Winning the GCC upgrade is something of a fillip for SAP. In recent years it has lost public sector customers seeking to upgrade their ageing systems.
Surrey County Council opted to move to rival software vendor Unit4 in a £30m deal in a project which has been delayed by more than six months. Meanwhile, East Sussex (in a £25m deal) and West Sussex (in a £7m deal) have both opted to move from SAP to Oracle – with the latter project suffering a delay of around two years. ®