This article is more than 1 year old
Mnuchin's private equity firm buys security startup Zimperium for $525m
Mnuchin to be board chair of Softbank-backed security startup Zimperium
Former US Treasury secretary Steve Mnuchin's private equity firm has announced its plans to buy a controlling stake in a mobile cybersecurity company for more than half a billion dollars.
Washington DC-based Liberty Strategic Capital made the $525 million investment in Zimperium, its first to grant it a controlling stake since the firm launched in 2021.
The purchase will also install Mnuchin, who was appointed Treasury boss by Donald Trump in 2017, as the chairman of Zimperium's board.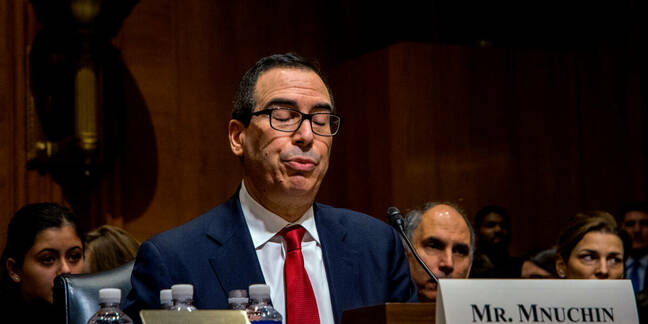 Steven Mnuchin testifying at the Senate Finance Committee during his 2017 confirmation hearing
SoftBank, which led one of Zimperium's previous investment rounds, will continue on as a minority shareholder. Previous Zimperium investors include private equity firm Warburg Pincus, Sierra Ventures, Telstra Ventures and Samsung. 
The mobile security firm was first to identify the GriftHorse Android Trojan laste last year, whose malware infected more than 10 million Android devices worldwide.
Zimperium's products are geared toward mobile device security, which Mnuchin said is an integral part of life. Their integral nature, in turn, makes them a prime target for cyberattacks.
"It's clear that mobile is the new front line for cybersecurity. We all need to increase our focus on the protection of mobile devices and applications … Employees are using their own devices, driving enterprises to increasingly recognize the need for top-of-the-line cybersecurity designed for the mobile environment," Mnuchin said. 
Mnuchin has prioritized cybersecurity investments since forming his private equity firm last year. Liberty describes itself as a firm "focused on strategic investments in technology, financial services and fintech, and new forms of content."
Absent from his portfolio, Mnuchin said, is the newly formed Trump Media & Technology Group. 
The investment in Zimperium gives Liberty its fifth stake in a company. In 2021 it was a lead investor in Cybereason's Series F and in app security company Contrast Security's series E. In 2022 it made leading investments in enterprise cyber defense platform BlueVoyant and real-time satellite data Satellogic, from which it later exited. 
With the exception of Mnuchin's bid, which is expected to close in the second quarter of 2022, Zimperium has raised a total of $72 million over five funding rounds. According to Crunchbase, Zimperium has a post-money valuation between $100 million and $500 million, although the biz disputes those figures. 
Dallas, Texas-based Zimperium reportedly saw a 53 percent expansion of its annual recurring revenue last year, which CEO Shridhar Mittal largely attributed to the pandemic and remote workers.
Zimperium has partnered with government agencies and private companies in the past, working with NIST on zero trust architecture and partnering with Los Angeles to develop a mobile security app available for free to residents.
It was also the only mobile device security company named to Deloitte's list of fastest growing tech companies for 2021. ®