This article is more than 1 year old
Nvidia releases $1,999, 8K-capable GeForce RTX 3090 Ti GPU
The GPU giant says it's for the 'most ambitious users'
Nvidia is finally releasing its latest monster of a graphics processor, the GeForce RTX 3090 Ti GPU, which it said will super-power content creation applications and enable 8K gaming, assuming you're willing to part with a couple thousand dollars.
Launched Tuesday, the new GPU is available in graphics cards made by Nvidia and partners, packing 24GB of what Nvidia said is the fastest GDDR6X memory, providing a bandwidth of 21Gbps. Pricing for the component starts at $1,999, but given the overall (though somewhat abating) inflation of graphics cards due to ongoing shortages, we wouldn't be surprised if you end up paying more.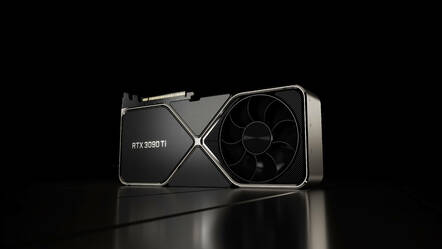 A render of Nvidia's new GeForce RTX 3090 Ti
Based on Nvidia's Ampere architecture, which debuted in 2020, the RTX 3090 Ti packs in 10,752 CUDA processing cores, which makes the GPU well-suited for demanding applications, particularly those that benefit from parallel computing architectures.
It's not all about gaming, of course. Nvidia adds that the RTX 3090 TI is built for the "most ambitious users," aiming the gear at data science and AI researchers working with large data sets, in addition to video editors working with massive files, and developers working with memory-intensive 3D rendering applications.
For example, the RTX 3090 Ti provides a 42 percent to 102 percent performance boost over the RTX 2080 Ti and Titan RTX for rendering applications like Blender, Maya and Cinema4D, the graphics giant said..
The 24GB of GDDR6X memory is a big deal because it can handle data sets that are twice the size of the original RTX 3080 Ti, and that can also benefit areas like 8K video editing.
The company said the RTX 3090 Ti's larger memory means that video editors can avoid annoying memory errors within applications like Blackmagic Design's DaVinci Resolve color grading and non-linear video editing applications when using memory-intensive effects like Temporal Noise reduction or SpeedWarp retiming on raw 8K video footage.
And don't worry, gamers: Nvidia knows some of you are willing to spend however much it costs to have the fastest gaming rig on the planet. The company said the RTX 3090 Ti lets users play, capture and watch games in 8K using its DLSS Ultra Performance Mode, and it supports other 8K goodies, like HDMI 2.1 connectivity and AV1 decode for streaming 8K video.
Nvidia's own benchmark puts the RTX 3090 Ti at on-average 64 percent faster than the RTX 2080 Ti, 52 percent faster than the Titan RTX, and 9 percent faster than the Ti-less RTX 3090. ®