Intel buys cloud-optimization startup Granulate
Tech will be touted as a SaaS add-on in Xeon sales pitches, live on as standalone product
Updated Intel hopes to gain an extra edge in the cloud and datacenter markets with the acquisition of Granulate, a developer of software that optimizes complex and older workloads for modern CPUs.
The semiconductor giant said today it has reached a deal to buy the startup, which has around 120 employees, for an undisclosed sum. Rumors of the deal emerged last week with a report from Israeli newspaper Haaretz, which said Intel would be handing over $650 million in the deal.
The Tel Aviv-based software company has raised a total of $45.6 million since its 2018 launch.
Intel's Datacenter and AI Group will absorb Granulate once the takeover deal closes, which the x86 goliath expects to happen in the second quarter.
The Granulate team will reside within the that datacenter division's recently formed Cloud and Enterprise Solutions Group, which is led by former Oracle executive Janet George, according to an internal Intel memo sent to employees Thursday that was seen by The Register.
The acquisition runs in line with the desire of Intel CEO Pat Gelsinger to use software as a competitive differentiator as the chipmaker works to catch up with rival foundries and chip designers on making leading-edge silicon after years of manufacturing setbacks.
Granulate provides "autonomous" software focused on cloud and datacenter users as they increase workload performance, cut down on infrastructure sprawl and lower costs by reducing CPU utilization and application latencies. The secret sauce is in how Granulate's software can learn how an application works and then apply customized optimizations that continue to run in the background all without changes to the underlying code.
"Granulate's cutting-edge autonomous optimization software can be applied to production workloads without requiring the customer to make changes to its code, driving optimized hardware and software value for every cloud and datacenter customer," said Sandra Rivera, executive vice president and general manager of Intel's Datacenter and AI Group.
Intel said this software is important for tackling complex performance issues in emerging modern datacenter architectures that can't be easily tamed by traditional operating systems and runtimes.
The chipmaker is also keen on using Granulate's software to wrangle older Linux distributions and application libraries "that are not up to date with the latest advancements in today's high-performance CPUs."
In Thursday's memo to employees, Intel said it plans to offer Granulate as a software-as-a-service add-on in sales pitches for Xeon server processors once the acquisition closes. Granulate will also continue to provide its software "as standalone offering to all third-party customers," Rivera and Intel software boss Greg Lavender wrote in the memo.
"We are building our portfolio of software optimization tools that offer flexible and scalable capabilities that allow us to meet the growing demand of the ubiquitous compute era," Lavender added in a press release about the Granulate acquisition.
Intel made it clear that the chipmaker sees acquisitions of companies like Granulate as growth opportunities for its Datacenter and AI Group, whose business is much larger but growing much slower than the datacenter businesses of chip design rivals AMD and Nvidia.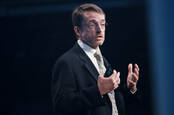 When the chips are down, Intel's biggest gamble isn't what to do – it's whom to do it with
READ MORE
We're also sure that the growing trend of cloud service providers using homegrown chips is top of mind for Intel.
At the same time, Intel's post-acquisition strategy for Granulate is part of the chipmaker's stated plan to grow its fledgling software business to $150 million in revenue this year through products that are developed internally and gained through acquisition.
"Granulate's innovative approach to real-time optimization software complements Intel's existing capabilities by helping customers realize performance gains, cloud cost reductions and continual workload learning," said Lavender, who was Gelsinger's former CTO at VMware.
As such, Intel said it plans to "rapidly scale" Granulate's software across its entire datacenter portfolio, and it's not starting from scratch either. The chipmaker has been working with the startup since late 2019, when Granulate was among the first startups to graduate from the Intel Ignite startup accelerator program. In the past year, the two companies have been working under a commercial agreement to optimize applications on servers running Intel Xeon processors. ®
Update
This story was revised after publication to include details from an Intel internal memo seen by The Register.