This article is more than 1 year old
SerenityOS: Remarkable project with its own JS-capable web browser
Lead dev of modest ground-up Unix-like OS quit job to work on it
SerenityOS, which started out as a one-man project in 2018, has now got to the point where its creator proudly announced that its web browser passes the Acid3 browser test.
This is a remarkable achievement for a relatively small, hobbyist project; SerenityOS list hundreds of contributors on its GitHub page. Acid3 is relatively old now – it dates back to 2008. However it was and is quite demanding, testing Javascript, the Document Object Model and more.
Its creator and lead developer, Andreas Kling, started the open-source project as a distraction while coping with substance withdrawal, a growing issue in the tech industry even before COVID-19. Its name is a tribute to the "Serenity Prayer" used in several 12-step programs. Last year, though, he was able to quit his job to work on it full time.
Kling is no rookie: he's worked at both Nokia and Apple, and as he puts it, "There's a pretty good chance you're reading this in a browser that's slightly faster because of me. ;)"
Even writing a browser completely from scratch is a substantial task, but to support the DOM and JavaScript is astonishing. It's still beyond some niche browsers such as NetSurf or Dillo, and just getting a modern browser is a challenge for other niche OSes.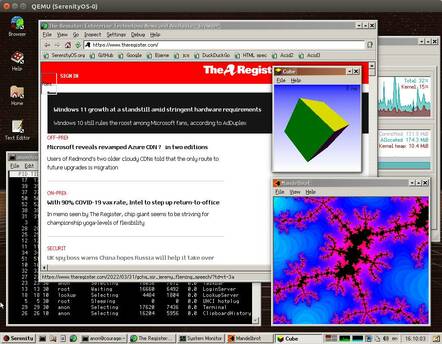 The SerenityOS desktop showing a browser window, a terminal, and a couple of demo apps
SerenityOS is not the only project of its kind: there are so many Unix-inspired hobby OSes out there that it's hard even to count them all. There are even multiple different lists of hobby OSes to choose from, and the OSDev community to help you craft your own. Many have got as far as a usable GUI.
What distinguishes SerenityOS is just how far it's got and how well it works. It's a blend of a simple, from-scratch, Unix-like kernel, plus a desktop that's reminiscent of NT 4 – before the rot started to set in with Windows 98's Active Desktop.
No, it doesn't have any enterprise relevance. No, it's not ready to replace Linux. No, you can't download a ready-to-install ISO image; you have to compile it yourself, from source. In other words, it's not yet reached the significant step of self-hosting – an achievement that the Haiku project justly celebrated when it got there.
But if that doesn't put you off, we suggest giving it a try. After all, Linux was at a stage like this once, and it too was "Just For Fun". ®