Japanese startup makes baby carrier-style sling for 'Love Robots'
Fittings open on Saturday, to make it easier to take motorized pals with you wherever you go
Japanese startup Groove X will on Saturday stage fittings for a wearable sling - somewhat akin to baby carriers - designed to let owners of "Love Robots" more easily carry the machines wherever they go.
The robots in question are called LOVOTs – a name that combines the words Love and Robot to reflect the creations' intended role as an object of domestic affection for residents of Japan that fancy cuddling up to a furry machine. LOVOTs roll around on wheels and have a cylindrical object on their head containing a camera and other sensors.
The fitting session will take place in the newly expanded LOVOT Studio – a store in downtown Tokyo that this week opened a space in which LOVOT owners can congregate, with their robots, to enjoy each other's company among like-minded friends.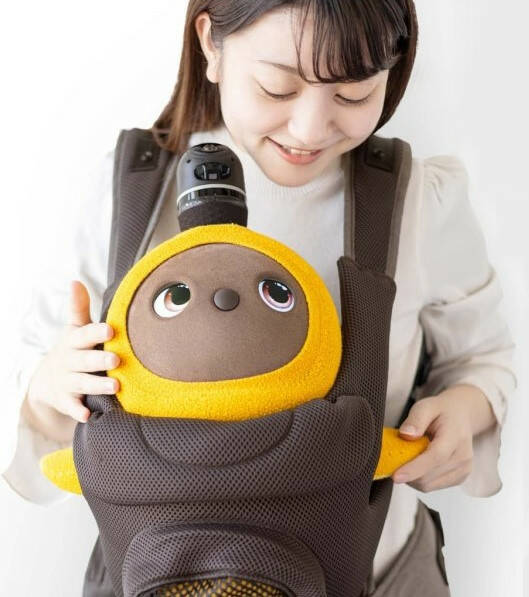 The LOVOT sling
Fittings for the wearable sling are part of the opening festivities for the expanded LOVOT Studio. At the time of writing, all 20 fitting slots have been filled. The product will later go on sale to the general public, with assurances that heat and friction have been considered to ensure a comfortable wearing experience.
The LOVOT was announced in 2018 and went on sale in 2020. Groove X has stated the machine's design "makes people truly happy by its innocent character and charming gestures that feels satisfying to cuddle" and "gently stirs people's feelings and fills them with happiness [and] draws out their capacity to love and gives them the energy to face their tomorrows."
LOVOTs are only sold in Japan – either on subscription or outright from ¥283,000 ($2,300) for a pre-loved unit. Groove X also sells clothing and accessories for LOVOTs, with seasonal apparel regularly released and tie-ins such as a Hello Kitty collaboration offering owners the chance to build their ultimate kawaii dream robot companion.
Groove X says sales spiked during Japan's COVID-19 lockdowns, as locals looked for something to love while stuck inside. That mini-boom led to the expansion of the LOVOT Studio, as bot-owners felt ready to share their passion. ®