This article is more than 1 year old
The Register gets up close and personal with ESA's JUICE spacecraft
Next stop, French Guiana. Then Jupiter
Feature The European Space Agency's (ESA) JUICE (Jupiter Icy Moons Explorer) spacecraft has kicked off electromagnetic testing in the Airbus Defence and Space cleanrooms in Toulouse.
The JUICE mission, which is due to launch on the very last Ariane 5 from French Guiana in April 2023, will spend nearly eight years cruising to Jupiter and a further three and a half years observing the Jupiter system. In 2034 it will become the first spacecraft to orbit a moon other than Earth's own satellite as it drops into orbit around Ganymede for some close-up science.
The Register visited Airbus's facility while the spacecraft was undergoing testing in the "quiet" room of the Toulouse site, the purpose being to check out any interference from the payload components. Visitors were therefore politely asked to surrender phones and anything that might interfere with the environment. We also had to wear protective gear to keep the spacecraft as squeaky clean as possible, although the end of the mission will see JUICE sent crashing into the surface of Ganymede to avoid any contamination reaching Europa.
The Airbus facility subjects spacecraft to all manner of torture, from vibration through to vacuum, and JUICE was not the only one being put through its paces. Others, including an upcoming MetOp meteorological satellite and an Inmarsat spacecraft, were also in various stages of construction and testing. However, lurking behind a door more befitting a supervillain's lair was JUICE.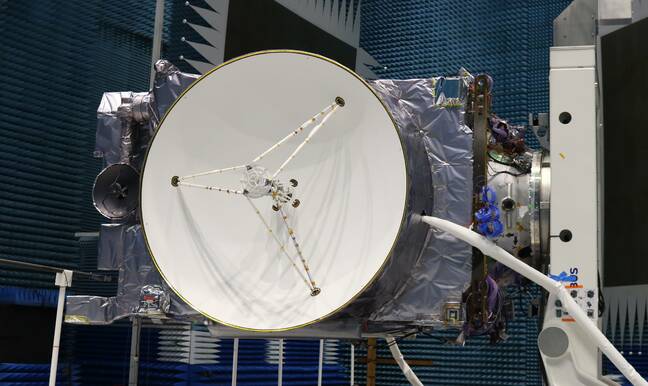 Click to enlarge
Despite the cavernous testing room, the spacecraft was missing its solar arrays. Understandable, since at almost 100m² they are the largest ever built for an interplanetary spacecraft and wouldn't fit. However, JUICE was otherwise complete, its instrument boom extended and supported by stands.
It has been a long journey to this point. The mission got the nod from ESA in 2012, as the first large-class mission in the agency's Cosmic Vision 2015-2025 programme. Airbus was selected as the prime industrial contractor in 2015 with a contract award of €350.8 million (the Ariane 5 launcher was procured separately).
At the time of award, the expectation was that the spacecraft would launch in 2022. That didn't work out.
Airbus's Philippe Pham, Head of Earth Observation and Science, tells us the last few years were a challenge. "We had a few hiccups," he says. "We had the pandemic issues across 2020 and 2021 and also some development issues with respect to some equipment and some instruments which led to late deliveries."
"We agreed with ESA to shift the launch date to April 2023."
"You cannot perform the tests without having a complete configuration. Now we are fully complete, which enabled us to... reproduce the launch sequence and also the lifetime of the mission."
And it's an impressive mission, with 10 instruments to study everything from Jupiter's atmosphere to making remote observations of the surface of the three icy moons Callisto, Europa, and Ganymede.
Of the effort put into thus far and results expected, Cyril Cavel, JUICE project manager at Airbus, says: "It's a career objective. Even before adoption by ESA there were many advanced studies as to how the concept would be like.
"So it all started in early 2000, and effectively the mission will run until 2035. After that, a bit like Cassini and Galileo, the science data will be used by scientists for many decades. So it's really a 50 year-plus mission."
As well as solar arrays large enough to keep JUICE juiced (pun intended) as it explores Jupiter and the three icy moons, the onboard computers must deal with lengthy communication times to Earth while also being capable of recovering from issues. "We have developed the spacecraft and the onboard software in particular to be able to detect failures, to isolate failures and to reconfigure them from failures," explains Cavel.
Of course, there are lessons learned from previous missions. One anonymous ESA engineer jokingly referred to the mission as "Rosetta goes to Jupiter," although ESA's Senior Advisor for Science and Exploration, Mark McCaughrean, tells The Register that unlike Rosetta, a bit more was known about JUICE's destination and the spacecraft lacked a lander.
He does, however, praise the scientific potential and notes it would be the first to focus on the moons and go into orbit around one, "with the aim of telling us much more about these worlds with icy crusts and liquid oceans."
"It's clearly a step on the road of more detailed studies of icy moons and their potentially very interesting sub-surface environments," he says.
Joint operations are also planned with NASA's Europa Clipper spacecraft, due for launch in 2024 atop a SpaceX Falcon 9 Heavy for a 2030 arrival at Jupiter.
Pham highlights the lessons learned from other missions, such as the Mercury-bound BepiColombo (due to arrive at the end of 2025), before adding that Airbus had gained plenty of experience over the years thanks to other projects in the commercial, civilian, and defense sectors.
It is also preparing the next Sentinel-1 satellite, C, for launch in 2023 aboard a Vega-C. Sentinel-1B continues to suffer what Pham delicately referred to as an "anomaly." Arianespace confirmed the contract award yesterday. Handy, because the Soyuz rockets used to launch Sentinel-1A and B are unlikely to be available any time soon.
And JUICE? "We will use the last Ariane 5 before the handover to Ariane 6," says Pham. "It will be launched from Kourou on the fifth of April 2023."
Shipment to the launch facility is expected during January 2023. ®