This article is more than 1 year old
First rocket launch from UK soil now has... a logo
Designed by a six-year-old, the design just needs a rocket on which to ride
The UK Space Agency has marked the International Day of Human Spaceflight by announcing the winner of the Logo Lift-off Competition.
A design by six-year-old Callum Wilkinson was picked and will adorn the first rockets launching satellites from the UK later this year.
Wilkinson's design beat the entries of over 10,000 primary school children and features a satellite orbiting the Earth, with imagery representing the role of space technology in monitoring and tackling climate change.
When the competition was announced at the end of last year, the organizers looked for something that would create a sense of pride over the UK's space endeavors while also highlighting applications of small satellites used to keep an eye on the environment.
Wilkinson appears to have ticked all the boxes and, while he was the overall winner, there were also 13 regional winners.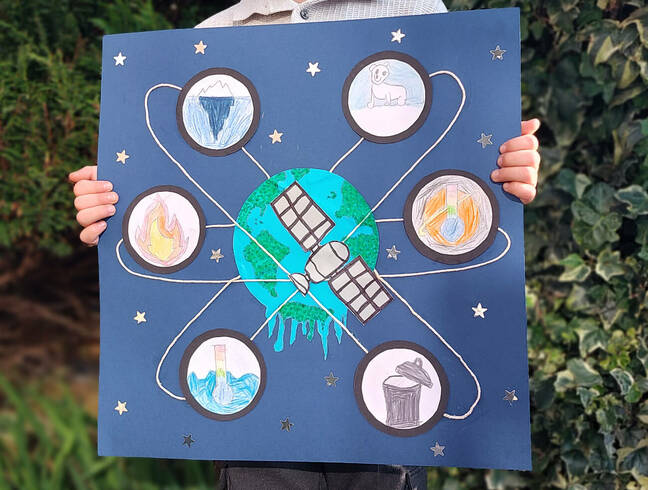 The winning entry
Although the International Day of Human Spaceflight was selected to show off the design (the anniversary of Yuri Gagarin's flight and also the first launch of Space Shuttle Columbia) humans are unlikely to be launching from UK shores any time soon. Instead, there is almost a mini-space race taking place to see who will actually be first into orbit from a UK spaceport.
The UK Space Agency said "The UK's first small satellite launch is set to take place from Spaceport Cornwall later this year, followed by vertical launches from Scotland at both Space Hub Sutherland in the Highlands and SaxaVord Spaceport in Shetland."
We asked the UK Space Agency if this meant Wilkinson's artwork would adorn a Virgin Orbit LauncherOne rocket or fairing (due to launch from Spaceport Cornwall) or a booster from a vertical launch company eying SaxaVord (likely US-based ABL Systems and Lockheed Martin) or Sutherland (Orbex and its Prime rocket.)
The agency couldn't say with absolute certainty that Virgin Orbit would be first, but did tell us that the logo would indeed be stuck on the fairing.
As an engagement exercise, the Logo Lift Off competition has been a successful one and we look forward to Wilkinson's submission being plastered over a first commercial launch from UK soil before the artist gets too many more birthdays under his belt.
Sadly, there is no indication if the potential for subversion warned of by B3ta.com co-founder Rob Manuel ever materialized. While the winners all seem very worthy, we hesitate to think of what other silliness turned up in the inbox. ®