This article is more than 1 year old
Sungard files for Chapter 11 in US, keep eye on restructure
Says its other global operations won't be affected by the process
Cloud and datacenter service provider Sungard Availability Services has filed for bankruptcy both in the US and for its Canadian subsidiary, just weeks after its UK division was forced into administration.
The firm cited difficult economic conditions due to the COVID-19 pandemic and other trends, but intends to continue operations while it seeks to speed the restructuring process it had already begun.
Sungard said it had filed Chapter 11 proceedings in the US Bankruptcy Court in Houston, Texas, and had also filed the relevant procedures in respect of its Canadian subsidiary via the Ontario Superior Court of Justice in Toronto.
The Chapter 11 declaration filing [PDF] reveals that Sungard currently has about $423 million in funded debt.
The company explained that its business is affected by challenges in its capital structure, made worse by the pandemic and other macroeconomic trends such as delayed customer spending decisions, reductions in IT spending, energy price inflation, and reduction in demand for certain services.
The latter appears to be a reference to lower demand for the business continuity services that Sungard offers, as many companies have permanently switched over to the work-from-home arrangements they adopted during the pandemic.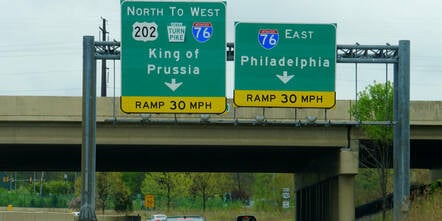 The turnpike near Sungard's Wayne, Pennsylvania HQ
This is actually the second time that Sungard has declared bankruptcy. In 2019, it completed a "pre-packaged" Chapter 11 filing that reduced its debt by more than $800 million and brought in $100 million of new funding from creditors.
However, it seems this did not provide a long term fix for the structural problems with the business, cited as uneconomical leases and underutilized space. Sungard said it is working to address these cost challenges over the last three years, but that "recent factors" have led it to acclerate restructuring of the US operation "for the overall financial stability of Sungard AS's global operations."
In a statement, its president and CEO Michael K Robinson said: "Over the past three years, we've made significant network, product and infrastructure investments which are being well-received by customers and gaining significant traction. We believe the Chapter 11 process is a right and critical step forward for the future of our business and our stakeholders."
Sungard said it had secured access to $7 million of bridge financing in advance of the Chapter 11 cases, and received a commitment for up to $95.3 million in new money debtor in possession (DIP) financing from some of its secured lenders.
Based on this additional financing, Sungard said it intends to meet financial obligations, including paying suppliers for goods and services delivered. It also said it has filed the customary motions to honor ongoing commitments to employees and customers, which effectively means that the organisation expects to continue to operate as normal, including delivering services to customers.
However, it seems likely that any restructuring agreement will involve either the sale of some or all of the company's assets or a debt-for-equity swap, depending on which one maximizes the company's value. The process is expected to be completed by mid to late summer.
The move follows Sungard's UK division going into administration last month, also citing increased energy costs as one of the primary reasons. It is currently continuing to operate in a business-as-usual mode while the administrators review operations to "maximize value" to company creditors.
Sungard said that its other global operations in Ireland, France, India, Belgium, Luxembourg, and Poland were not impacted by the proceedings in the US, Canada, or the UK.
Furthermore, in a letter sent to UK customers seen by The Register, the administrators in charge of the UK Sungard operation assured customers that the US Chapter 11 process does not impact on the UK administration process in any way and, that customers should "continue to engage with the Company on a business-as-usual basis." ®