This article is more than 1 year old
Japan seeks to decentralize datacenters
Sixty percent of current facilities are near Tokyo – a risky concentration
Japan's government has secured expressions of interest from over 100 regional centers willing to host new datacenters, as part of an effort to make the nation's computing infrastructure more resilient.
As pointed out in a January EOI, over 60 percent of Japan's datacenters can be found in or near Tokyo – a city that experiences frequent earthquakes and experienced blackouts in the wake of the 2011 Tōhoku earthquake and tsunami that damaged the Fukushima power plant. Another 24 percent of Japan's datacenters can be found in the Kansai region, near the cities of Nagoya and Kyoto. While Japan has plenty more datacenters on the drawing board, Tokyo is the preferred site for many.
The government has sensibly concluded that digital infrastructure is critical to society and that having over 80 percent of it concentrated in two locales creates obvious risks. Energy consumption is another concern, as authorities feel it is hard to access renewably sourced electricity in the nation's capital.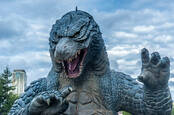 US Air Force puts Godzilla in charge of autonomous warfare effort with Project Kaiju
READ MORE
Japan's government therefore devised a plan to spread datacenters around the nation, to improve resilience and because spreading the supporting comms infrastructure around the nation is a nice secondary benefit. It's also hoped that if Japan can develop more viable datacenter sites, it could score some new investment as datacenter operators seek new locations to satisfy the growing demand for computing resources.
That's why the government sought expressions of interest from regional areas willing to consider hosting future datacenter builds.
Yesterday the nation's Ministry of Economy, Trade, and Industry revealed that over 100 regional governments put up their hands to be considered as datacenter hosts. The Ministry now plans to consider their proposals with a focus on resilience, before eventually subsidizing builds in the hope of attracting private investment in new facilities.
No timeframe for that effort has been set.
Japan is not alone in planning a regional datacenter shift. China plans a massive migration of urban datacenters to its western regions, where land and renewable energy are plentiful and cheap. ®