This article is more than 1 year old
Qlik moves to boost position in crowded automation space during IPO year
Initial boom in data vizualization, but CEO Mike Capone says it needs to 'play nice' to win in new segment
Interview It's never a zero-sum game, according to Mike Capone, CEO of data visualization software specialist Qlik. For the sake of the company, he'd better be right, as Qlik is betting its success on a foray into a market with way more competition than the one in which it earned its stripes.
In January this year, Qlik confidentially filed paperwork with US regulators for an initial public offering return to public markets, roughly six years after it was purchased by private equity investor Thoma Bravo.
To win over investors it will need to convince them it can make it in the market for automation software, which tech analyst IDC predicts will grow 17 percent each year between 2020 and 2025.
But Qlik is not the only vendor to spot the forecasts: the market for automation software has become crowded, stacking the odds against the interloper.
Specialists UiPath, Blue Prism, and Automation Anywhere initially carved up the market. In the last couple of years, a string of enterprise software vendors have launched their own spin on automation wares. They include giants such as Oracle, SAP, Salesforce and ServiceNow.
Then there is Microsoft, which practically owns the desktop environment, is strong in workplace collaboration, and has an enterprise application suite and a strong set of technologies in business intelligence with its own visualization tools. The same Power platform also offers low-code and automation options, with a market reach Qlik can only dream of.
Last year, Forrester predicted that only Microsoft would succeed in gaining significant market share against the process automation specialists.
For Capone, the answer is co-operation. He points out that UiPath is a partner as well as a competitor.
"Our Qlik Automation Engine can feed UiPath to trigger some sort of robotic process automation inside of something they've already built. For customers with a heterogeneous environment, we work really well and we're very open, so we don't we demand a customer uses our full-stack."
However, customers could benefit from using its full suite of tools which also includes data integration, as well as analytics and automation. "There's simplicity and beauty in that and that's really the edge that we have against some of those competitors," he says.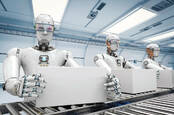 The robots are coming! 12 million jobs lost to automation in Europe by 2040 – analyst
READ MORE
Qlik was founded in 1993 in Sweden. It became one of a group of companies to figure out that while established business intelligence software vendors, including Business Objects, Cognos and Hyperion, crunched the numbers, they didn't present them in a digestible visual form or make it easy for business managers to make their own charts.
Tableau, Tibco, and Qlik spotted this gap in the market and saw a boom. But eventually, they ran out of road. In August 2016, Thoma Bravo executed a private equity buy-out of Qlik for $3bn, six years after its initial IPO. In 2019, CRM giant Salesforce bought Tableau for $15.7bn.
The platform was also a problem. Both Tableau and Qlik have been raised as desktop applications and were perceived as slow to move to the cloud. The private equity money was set to ease that transition.
Qlik's big pitch is that automation can be triggered by business data passing through certain thresholds. So, if a food retailer knows it has to sell so much stock in a day to avoid waste, it can reduce prices according to defined criteria. The analytics understands the criteria; the automation executes the policy, so the argument goes.
With some rival vendors associated with a particular application set or cloud platform — like Google's Looker — Qlik's independence is one of its strengths. It was re-platformed in the cloud, but acts on data wherever it resides, Capone says.
"Most cloud vendors, what they're really trying to do is grab all your data. All the hyperscalers are saying, 'Give us all your data' and that's how they make their money. They charge you by compute or storage, and we don't: we provide outcomes, we sell analytics," he says.
Capone says that most companies don't want all their data in one place, paying compute, storage and egress fees in the process. "The fact that we're agnostic, and we work with everybody, it's a really powerful statement. We don't make money by holding your data and we don't make money by selling your data or selling advertising or anything else. That makes us a very desirable partner for a lot of these companies," he says.
To this end, it offers Qlik Forts, a hybrid cloud service that brings analytics to wherever the data resides. Qlik says that whether on-premises, in a virtual private cloud or a public cloud, the tool removes the need to move previously siloed local data for cloud analytics, ensuring the cost savings and performance benefits of SaaS while meeting every governance, jurisdiction or policy requirement.
But Qlik has only just set out on a mission to get customers using its automation technology as well as visualization and analytics.
It made its first play for automation in October last year, launching features including no-code user interface (UI); Native Qlik Cloud integration – using APIs to automate analytics; and Dynamic automation triggers – automating actions depending on present conditions in analytics.
Capone says while between 10 and 15 percent of customers use the full platform including automation it is still "early days; use is accelerating dramatically."
It needs to if Qlik is to make an impact on the automation market, and that is something investors will no doubt demand. ®