This article is more than 1 year old
Chromebook sales train derails as market reaches saturation
Vendors didn't 'diversify' adoption beyond education, CIOs flirted with form factor and nothing more
Crashing Chromebook shipments caused the global PC market to shrink for the first time since the pandemic began.
Or so says the latest data from Gartner, which estimates that total unit sales into the channel fell 7.3 percent year-on-year to 77.5 million units in the first quarter. Remove Chromebooks from that equation and the market grew 3.3 percent, it said.
"Our estimate right now is 4 to 4.5 million Chromebooks shipped in 1Q22, down by the range of 64-67 percent," Mikako Kitagawa, director analyst at Gartner told The Register via email.
Signs that the wheels were coming off the Chromebook sales train were evident from the third quarter of last year as the US market – which still accounts for 70-80 percent of worldwide shipments – reached saturation point.
Vendors subsequently allocated more resources to other markets as demand for the form factor waned. "Chromebook lost momentum," said Kitagawa as they could "not diversify their customer base beyond the education market."
"There were opportunities to expand into the business market during the peak pandemic. CIOs were considering to adopt Chromebook as an alternative device of Windows laptops because they market faced laptop supply shortage due the surge. But the opportunities are mostly gone for now."
Gartner expects the segment to be dominated by replacement cycles when customers want to refresh existing devices.
All the biggest sellers of Chromebook reported declines in the quarter: Lenovo's total sales, including Chromebooks, fell 12.6 percent to 18.2 million, and HP was down 17.8 percent to 15.8 million. Gartner did not split out Chromebook-specific shipments for the vendors but said both were impacted.
In addition to Chromebooks, the general consumer part of the PC industry is slowing against the shipment pace at the height of the COVID-19 crisis. This is due to a tougher comparison period a year ago and people spending more on things other than tech (inc holidays), said Gartner.
Business PCs expanded in Q1, however, as companies continued to allow their workforce to work remotely and in the office as part of a hybrid set-up. Desktop shipments went up and Dell was a beneficiary of this, growing total shipments 5 percent to 13.73 million units. It helped, said Gartner, that Dell has a "relatively minor presence in the declining Chromebook and consumer PC segments."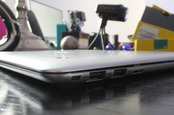 Run Windows on a Chromebook: All the details. Not so fast, home user...
READ MORE
Marco Andresen, global chief operating office at Lenovo, told us that he thinks the Chromebook market has life in it yet.
"Clearly there is not the same growth we have experienced during the first year and a half of the pandemic but maybe that's somehow logically explained by a temporary saturation of the education market. However the market is still quite large and all the education units sold will have to be replaced after some years. On top there is an increased interest for Chrome in enterprise, which we still have to watch closely."
Asked if CIOs are still considering Chromebooks, he said: "I think some are. It's for sure a slow process (apparently) but I am not sure the boat has sailed. Ultimately it's about how much focus Google will put on this to determine 'where the boat is' I believe."
We asked HP and Acer to comment but neither were immediately available. ®