This article is more than 1 year old
OVHcloud raises 2022 forecast, cites growing demand for data sovereignty
Europe's great cloud hope is growing but AWS, Microsoft and Google won't be losing sleep.... yet
OVHcloud, Europe's closest approximation to a hyperscaler, says it has lifted revenue guidance for the year off the back of growing enterprise demand for a sovereign cloud – but Microsoft, AWS and Google likely won't be too troubled yet.
The web hosting and dedicated server provider, which last year floated on the Paris Stock Exchange, today outlined results for the six months ended February [PDF] with revenue of €382 million ($412 million), up 14.3 percent year-on-year.
Private Cloud (bare metal and hosted private) comprised the bulk of sales at €233 million ($251 million), up 15.8 percent; Public Cloud was €60 million ($65 million), up 24 percent; and Web Cloud and other grew 5.3 percent to €86 million ($93 million). Turnover in France accounted for almost half the business, the rest of the Europe made up 28.5 percent, and the remainder was global sales.
The revenue includes a €2.9 million ($3.1 million) impact caused by the fire at the company's facility in Strasbourg, France last year that destroyed a datacenter as it lacked automatic fire extinguishers, as recently reported by the Bas-Rhin local fire service. Over 140 customers have so far filed a class action lawsuit against OVH for damages for losses caused by the blaze.
Net revenue retention was stated as 112 percent in the half-year report, indicating an improvement in keeping customers on board. The company sold 71 infrastructure and platform services, with 80 to roll out by the end of its financial year, August 31.
OVH operates 33 datacenters that host 400,000 servers for 1.6 million customers. It employs 2,600 people.
"Building on this performance," said OVHcloud CEO Michel Paulin [PDF], "we are entering the second half of the year with confidence.
"The reinforcement of our teams and ecosystems, combined with the rapid enrichment of our portfolio of PaaS solutions and increased demand for sovereign cloud offering, are all strengths that lead us to raise out revenue growth target to a range of 15 percent to 17 percent in FY2022."
The previous estimate was for 12-15 percent revenue expansion on the €632 million ($682 million) reported in the prior year.
There is certainly demand for European companies to build competitive services to the big American cloud giants, as demonstrated by the launch of the GAIA-X – though this fledgling initiative also has its fair share of critics worried about the gradual encroachment of non-European entities.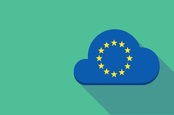 EU digital sovereignty: Cloud players unconvinced
READ MORE
Local cloud players, including OVH, have launched complaints to the European Commission against Microsoft in relation to the way the US giant's software and cloud services work together and claim that unfair incentives are being offered to customers.
OVH, Europe's fourth or fifth biggest cloud provider depending on who you believe, said today that Russia, Ukraine and Belarus accounted for 1.5 percent of revenue as of February 28 2020. It has no employees, service providers or infrastructure in those three countries. ®