This article is more than 1 year old
Windows 11 usage stats within touching distance of... XP
Hardware requirements + cautious enterprises = slow adoption
Windows 11 is continuing to struggle both in the enterprise and at home, according to figures published by IT asset management platform Lansweeper. Disappointingly for Microsoft, it has yet to even surpass Windows XP.
Lansweeper's figures come from a scan of 10 million PCs, 20 percent enterprise and 80 percent consumer. The latter comes from the company's Fing acquisition, a network scanning and discovery app.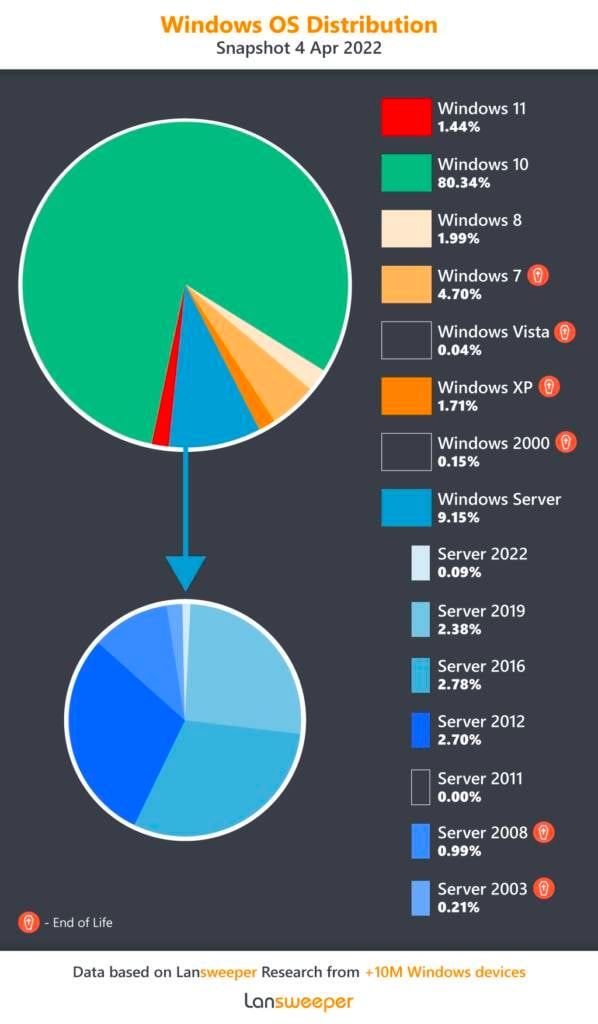 Click to enlarge
It makes for grim reading from Microsoft's perspective. Upgrades might have tripled over the last three months, according to Lansweeper, but we'd contend that Windows 11 was starting from a pretty low base.
April's snapshot has Windows 11 on 1.44 percent of Windows machines surveyed. The long-dead XP and recently culled Windows 7 were on 1.71 percent and 4.7 percent respectively. Windows 8 only accounted for 1.99 percent while Windows 10 squatted on an impressive 80.34 percent of systems.
"Although the rate of adoption is increasing bit by bit, it's obvious that Windows 11 upgrades aren't going as fast as Microsoft had hoped, especially within the business environment," said Roel Decneut, chief strategy officer at Lansweeper. "Many organizations have been put off from having to buy new machines that meet these conditions, while others are simply happy with the current existence of Windows 10 which continues to be supported until 2025."
With more than half of the devices surveyed incapable of a Windows 11 upgrade, thanks to Microsoft's stricter hardware requirements, customers would be forgiven for staying put. We'd also find it hard to imagine many enterprises doing a wholesale upgrade until Windows 11 has been out for at least year or so and had time to settle down.
In terms of adoption trend, consumers are unsurprisingly ahead of businesses when it comes to Windows 11. The OS is headed toward 2.5 percent in terms of consumer share while barely passing 1 percent for business.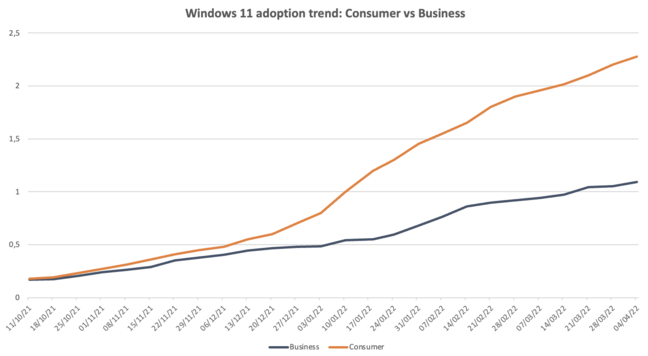 Click to enlarge
The continued dominance of Windows 10 echoes the recent survey performed by AdDuplex (which only includes Windows 10 and 11 systems), although that report found that Windows 11 growth had pretty much ground to a halt, likely as a result of most of the consumers that could having already performed the upgrade. AdDuplex's data is based on apps using the company's advertising platform.
"This situation will likely continue in the future unless businesses are given a compelling reason to upgrade," said Decneut.
There was a glimmer of light for Microsoft with a marked decline in machines running end-of-life operating systems, which fell to 6.6 percent from 9.75 percent in January. While that figure includes unsupported versions of Windows Server, XP and Windows 7 still accounted for a significant proportion.
Microsoft doesn't provide much in the way of usage figures itself, but The Register asked for its take and will update should the company respond. ®