Biotech firm: Graphcore IPUs faster for AI-based drug discovery than GPUs
Someone's got to keep, say, Nvidia on its toes
In the race to provide the best machine-learning accelerators, one of Nvidia's top challengers has claimed a victory in the biotech space, London firm LabGenius, which said Graphcore's intelligence processing units (IPUs) provide significantly faster performance for AI-based drug discovery than some unidentified traditional GPUs.
Founded in 2012, LabGenius is a venture-backed company that develops antibody treatments for cancer and inflammatory diseases by leaning on machine-learning algorithms and laboratory automation to discover proteins that have the right qualities to treat medical conditions.  
In a blog post to be published Thursday, and seen by The Register, Bristol, UK-based Graphcore is set to reveal LabGenius turned to its IPUs to train a BERT Transformer model on a large data set of existing proteins to predict masked amino acids. This, in turn, we're told, helped LabGenius suss out important protein features that can help it develop new therapies.
We reduced the turnaround time to about two weeks, so we can experiment much more rapidly
By using Graphcore IPUs provided in cloud instances from Cirrascale Cloud Services, LabGenius said training the model took about two weeks, down from the month it previously took using GPUs. As for which GPUs, LabGenius did not say, but our best guess is that they were Nvidia's, given the company's dominance in AI, plus the fact that AMD is only starting to become competitive in this area.
"Previously we used GPUs and it took us about a month to have a functioning model of all the proteins that are out there. With Graphcore, we reduced the turnaround time to about two weeks, so we can experiment much more rapidly, and we can see the results quicker," said Dr. Katya Putintseva, a machine learning consultant at LabGenius.
LabGenius said getting a major performance boost like this is critical as it races to compete with other companies developing new treatments.
"Graphcore has changed what we're able to do, accelerating our model training time from weeks to days. For our data scientists, that's really transformative. They can move much more at the speed they think. For us, that's incredibly valuable," said Tom Ashworth, head of technology at LabGenius.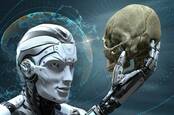 Nvidia watches Brit upstart Graphcore swing into rear-view mirror waving beastly second-gen AI chip hardware
ARCHIVE
Graphcore was founded in 2012 by semiconductor veterans Nigel Toon and Simon Knowles, and the chip designer believes its IPUs are better suited for AI workloads than GPUs because the processors' architecture were built from the ground up with such applications in mind.
The chip designer said LabGenius plans to expand its use of the standard PyTorch implementations of BERT that are provided by Graphcore, which only require small code changes. The biotech firm is also looking to build new AI models using Graphcore systems, including Graph Neural Networks, for which the chip designer said its IPUs have "an innate architectural advantage."  
Nvidia, Graphcore and other AI chip designers, like Cerebras Systems, are all pursuing AI chip deals in the biotech space. For instance, Cerebras announced last month that biomedical startup nference adopted one of its CS-2 systems to analyze massive amounts of unstructured data. Nvidia, on the other hand, has developed entire software and hardware platforms for health care and life sciences firms. ®