This article is more than 1 year old
Rocket Lab successfully catches falling rocket booster with a helicopter
Mission not quite accomplished after some weird wobbles
Space launch contender Rocket Lab has successfully demonstrated its peculiar method of capturing spent rocket boosters so they can be re-used: catching them with a helicopter as they fall.
The outfit planned to make the catch on April 29, but bad weather delayed the mission.
The skies cleared today and the mission – dubbed "There and back again" – sent 34 satellites aloft after launching from New Zealand's Mahia Peninsula. The Electron booster used for the launch then returned to Earth beneath a parachute.
At 6,500 feet (just under 2km) above the ground, a Rocket Lab Sikorsky S-92 helicopter met the falling booster and "used a hook on a long line to capture the parachute line."
The attempt to make the catch looked like this, as seen from the 'copter as it started dangling its hook once it found the falling booster.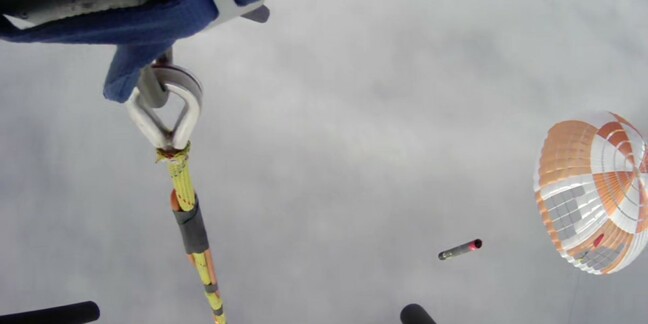 Rocket Lab 'copter and booster. Click to enlarge
While the catch was made, flying with a rocket under a helicopter turned out to be a tad tricky thanks to what Rocket Lab has described as "different load characteristics than previously experienced in testing." But as the tweets below show, the mission still had a happy ending.
Incredible catch by the recovery team, can't begin to explain how hard that catch was and that the pilots got it. They did release it after hook up as they were not happy with the way it was flying, but no big deal, the rocket splashed down safely and the ship is loading it now.

— Peter Beck (@Peter_J_Beck) May 3, 2022
Homeward bound, safe and sound. pic.twitter.com/j159KRKQb5

— Peter Beck (@Peter_J_Beck) May 3, 2022
Launching into space is not cheap, but the cost falls considerably if rockets are re-used rather than allowed to burn up in the atmosphere or sink beneath the waves. Which is why the likes of SpaceX and Blue Origin have built rockets that keep a little fuel in reserve to allow them to make controlled landings. The tech works so well SpaceX has re-used one of its boosters a dozen times.
Rocket Lab's Electron booster is too small to carry the fuel needed for a controlled landing, so has previously recovered boosters from the ocean after parachute descents.
Dunking rockets in salt water is sub-optimal, so Rocket Lab hopes helicopter retrieval could speed the process and save its boosters a bath.
Today's mission was rated a success for the catch, but a learning experience in terms of what it takes to use a helicopter to return a spent rocket to terra firma.
"Bringing a rocket back from space and catching it with a helicopter is something of a supersonic ballet," Rocket Lab founder and CEO Peter Beck said in the company's mission accomplished statement. "A tremendous number of factors have to align and many systems have to work together flawlessly, so I am incredibly proud of the stellar efforts of our Recovery Team and all of our engineers who made this mission and our first catch a success. From here we'll assess the stage and determine what changes we might want to make to the system and procedures for the next helicopter catch and eventual re-flight." ®