This article is more than 1 year old
Palantir expands from Covid role, wins $90m deal with US Department of Health
Controversial analytics company sees expansion into healthcare continuing
Peter Thiel-founded analytics company Palantir has won a $90 million, five-year contract with the US Department of Health and Human Services (HHS) for a "holistic" enterprise data project.
The controversial company — which cut its teeth on projects for the CIA and US border agency ICE — was awarded a Blanket Purchase Agreement (BPA) which is set to allow HHS officials across the department's many agencies and missions to select the Palantir platform to support their work.
According to a Palantir statement, the agreement marks the expansion of Palantir's scope of work at HHS and is distinct from the company's work on COVID-19-related health projects.
The first project under the new deal will be to examine core administrative data and applications through a "vertically integrated platform that allows teams to configure low to no code applications to manage, ingest, and access data securely, across business domains," the statement said.
"We are grateful for our continued partnership with HHS and the confidence in our software it is showing by selecting Palantir for a long-term, wide-ranging BPA," said Akash Jain, president of Palantir USG, in a pre-canned statement.
Palantir has attracted controversy distinct from its cohort of big data startups. Aside from its spy-tech ventures, founder Thiel has helped finance and support the political campaigns of Donald Trump, the twice impeached former US president currently under investigation by a House select committee for alleging inciting the 6 January Capitol attacks.
According to Palantir, its Foundry platform "enables data-driven decision-making by integrating data from siloed data sources and enabling granular access to data across various organizations."
In July 2021, the HHS renewed and expanded its one-year contract for its Foundry-base COVID-19 vaccine distribution platform Tiberius from nearly $17 million to $31 million.
The system originated in 2020 under the Trump administration's Operation Warp Speed, now known by the more modest moniker Countermeasure Acceleration Group.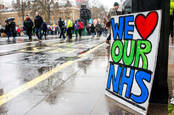 Under threat of judicial review, UK.gov agrees to consultation before extending Palantir's NHS role beyond pandemic
READ MORE
Palantir has also become the focus of concern among health data privacy watchers in the UK.
In December 2020, England's national Health Service (NHS) signed a two-year, $29.91 million (£23 million) contract with Palantir, seemingly without scrutiny.
In March 2021, the government caved at the threat of a judicial review into the deal, making three key concessions. ®