This article is more than 1 year old
Off the grid, Day 10: Yandex's only datacenter outside of Russia still running on diesel
Russia's Google desperately seeking energy deal for Finland DC after local renewables supplier terminates agreement
Updated Finnish energy supplier Ilmatar says it has terminated a supplier agreement to provide electricity to Yandex's datacenter in the southern part of the country, as the facility enters its second week of relying on diesel generators.
There has been no grid power to the DC since 25 April. Yandex told us: "Our datacenter has been indeed cut off from the power grid."
Juha Sarsama, boss at Ilmatar, told The Register:
"We can confirm that we have terminated our electricity delivery agreement to Yandex Datacenter in Mäntsälä."
Ilmatar would not provide a reason for the deal's early termination (the power purchase agreement was meant to run until 2026), and said it was unable to comment further on contractual issues with Yandex. Local utility provider in the Southern Finnish municipality, Nivos Energia Oy – which was operating in this case as an energy distributor – was not immediately available for comment.
The Russian firm was keen to make it known it isn't subject to any official sanctions in Finland – which is correct – but concerns have been raised about Yandex, a $5.4 billion (356,171 million rouble) revenue Netherlands-headquartered search and tech firm, in many other territories, over its perceived ties to the Kremlin.
Last month it withdrew financial guidance for 2022 due to uncertainty over what this year will yield for the corporation.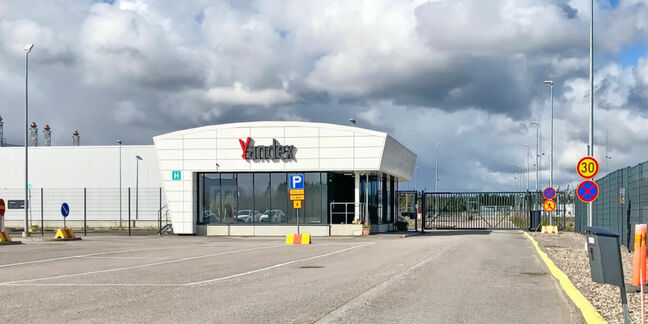 Yandex's datacenter in Finland
Yandex CEO Arkady Volozh has reportedly seen his net worth drop from a high of $2.6 billion to "just" $580 million, according to Forbes, after the stock value plunged by 60 percent in the wake of Russia's invasion of Ukraine.
Meanwhile, Tigran Khudaverdyan, deputy CEO and executive director of Yandex, stepped down last month after being slapped with sanctions by the EU on March 15. In its official journal, the European Union cited evidence from Lev Gershenzon, the former head of Yandex News, whom it quoted as saying that Yandex is a "key element in hiding information" from Russians about the war in Ukraine.
It added:
Moreover, the company has been warning Russian users looking for news about Ukraine on its search engine of unreliable information on the internet, after the Russian government threatened Russian media over what they publish.
Currently however, Yandex, Russia's largest technology company, has avoided official sanctions directed at the company itself. This was reportedly challenged by some progressive European MEPs, with a Yandex rep telling an EU affairs news site that "according to Russian law, any news aggregator with a daily audience of 1 million people, is obligated to show only those publishers that are listed in the official register of Russia's media regulator, known as Roskomnadzor."
The search giant, dubbed Russia's Google, controls 60 percent of the country's search market, according to its latest results for calendar Q1 [PDF].
With the Finnish Ministry of Defence saying it spotted Mi-17 Russian military attack helicopters from its neighbor in national airspace yesterday morning, and Finland considering joining NATO, political tensions between the two countries is high*.
Datacenter operations
For its part, the datacenter in southern Finland is Yandex's only DC outside of Russia. The company confirmed to us it has "five datacenters, four of which are located in Russia [Vladimir, Sasovo, Ivanteevka, and Mytishchi] and serve for the operations inside the country. The datacenter in Mäntsälä, Finland, was designed to work with international markets as we expanded our services globally."
Yandex has claimed "the grid connection will be restored" by local power grid operator Nivos "as soon as we sign a new power supply contract."
The Register has contacted utility firm Nivos Oy to confirm this, but we were unable to get through due to what appeared to be a pretty serious ICT staff strike (reaching into domain admin territory) – that is unrelated to the issues at the datacenter, although it dates back to the same day: 25 April.
In a notice posted to its website, the utility firm says the staff strike in the ICT sector was "due to the rejection of a draft agreement."
As for the datacenter power contract - Yandex first signed a five-year power purchase agreement (PPA) for wind energy with Finnish renewable energy company Ilmatar Energy in 2021 - the company told us: "We are hoping to continue our operations as usual, as well as fulfil our commitments to the city, including heating up the town, after these issues are resolved."
According to Yandex's 2020 sustainability report [PDF], the DC in the southern Finnish province pumped out waste heat produced by servers to residential buildings in the city and to local water heating systems, and claims this heats up 75 percent of the area's homes. To put this in context, that's about 20 gigawatt hours of district heat per year.
While some have pointed out the irony that local homes will seemingly be forced to burn Russian gas instead, there were reports that utility firm Nivos – which also has an energy supplier arm – is sourcing a bioheat center from local firm HansHeat Oy to reduce the area's reliance on fossil fuels. The pair already did business in 2017 where Nivos sourced a wood pellet boiling facility from HansHeat to heat up a local kindergarten and school. ®
Updated to add on May 12 2022:
The President of the Republic of Finland Sauli Niinistö and its Prime Minister Sanna Marin have just announced that Finland is considering seeking NATO membership.