This article is more than 1 year old
Astra Space to launch satellites from Shetland
Rockets could fly from the UK as soon as next year
The UK's SaxaVord spaceport has agreed a deal with Astra Space to launch satellites from the Unst facility from 2023.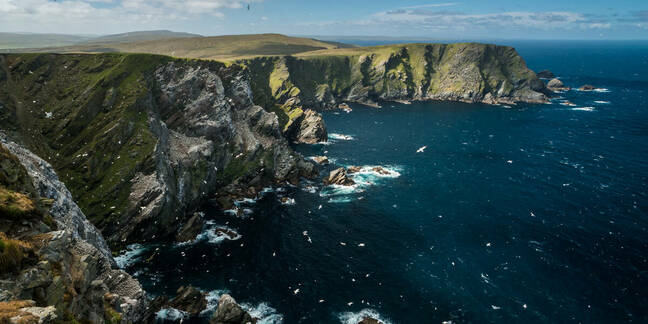 Isle of Unst, Shetlands, Scotland
The ambitious plans are subject to agreements, approvals, and the site actually being built (consent for that from the Shetland Islands Council was received at the end of February this year) but, unlike some of SaxaVord's other customers, Astra has actually aleady reached orbit.
Admittedly, it has only managed this twice including its first orbital success in November last year. The company suffered a failure in February, when the fairing separation did not go to plan.
The payloads on that mission were not delivered to orbit and the fault was traced to an error in an electrical harness engineering drawing. The company also found its flight control software was vulnerable to a specific "packet loss" failure mode.
The most recent launch, from the Pacific Spaceport Complex in Alaska, was a second success.
All Astra needs is a simple concrete pad for launches; the company can lug the rest of the infrastructure to wherever required. Launching from SaxaVord will also increase the capacity of the company for key inclinations.
It could be a busy few years for the spaceport. A deal was agreed with French rocketeers VOS in March for a potential first launch in 2024 and a multi-launch deal with Skyrora was signed in 2021.
The schedule slipped from the proposed 2022 Skyrora launch. 2023 is the current target as the company deals with the bureaucracy arising from its plans, in this case getting a license from the Icelandic government to permit the rocket to cross the country's airspace and waters during launch.
As for 2022, SaxaVord was recently selected as host for the UK Space Agency's Pathfinder launch, to be delivered by Lockheed Martin and ABL Systems this year.
SaxaVord has competition in the UK vertical launch arena from Sutherland, which is due to host its first launches in the coming years. Forres-based Orbex submitted an application to the UK's Civil Aviation Authority in February with a view to kicking commercial launches on its Prime rocket.
Objections to Sutherland's plans, instigated by Danish billionaire Anders Povlsen, were dismissed by a judge last year. Povlsen made a major investment in the SaxaVord in 2020. ®