This article is more than 1 year old
OVH: The cloud should be open, reversible, interoperable
CEO Michel Paulin on coming back from a datacenter blaze and playing nicely with others
Interview OVHcloud is perhaps best known for cloud computing, hosting, and dedicated servers in its network of datacenters but the company has also made news in other arenas. For instance, taking on Microsoft in the European courts or the fire at one of its datacenters that destroyed customer data.
Backups? It's the cloud, right?
CEO Michel Paulin addresses the fallout from the March 2021 fire during a chat with The Register. "We have decided to increase the level of resilience," he says, "above all the regulations."
This comprises, according to Paulin, containerization, fire extinguishing systems, and batteries. The opening of a new datacenter is being delayed "just to readapt with higher standards of security and safety of our servers."
A recent report on the conflagration highlighted a lack of an automatic fire extinguisher system and a wooden ceiling that was only rated to resist fire for an hour. Expensive lessons, we'd wager, were learned.
Affected customers who assumed their data was safe were not pleased. A class-action lawsuit was filed over the situation and Paulin notes that more clarity is required over who is responsible for backups. "Many customers, especially small customers, were not really very interested in that and they believed 'because it's in the cloud... my backups are secured.'"
The devil will be in the legal detail. As for the assumption that backups were part of the deal in the time before the "incident," Paulin says: "In fact, it was not. So we decided to clarify that."
Backups are now the default and it is up to the customer to opt out.
It's a timely reminder to all those who have shoveled their data into the cloud over the years to check their contracts to see exactly what Ts&Cs they – and their vendor – have agreed.
It's Azure thing
OVHcloud's legal team was also recently called to action for an entirely different reason. Along with several other companies, OVH has filed a complaint with the European Commission's antitrust unit over how Microsoft runs its licensing operation. Namely, trying to run the Windows giant's services somewhere that isn't Azure can result in some hefty fees. Not ideal for competing cloud vendors.
"We see today that there are a lot of practises to avoid [allowing] the customer to choose, but also to use trojan horses to impose their cloud. And this is a type of claim we've made against Microsoft," says Paulin.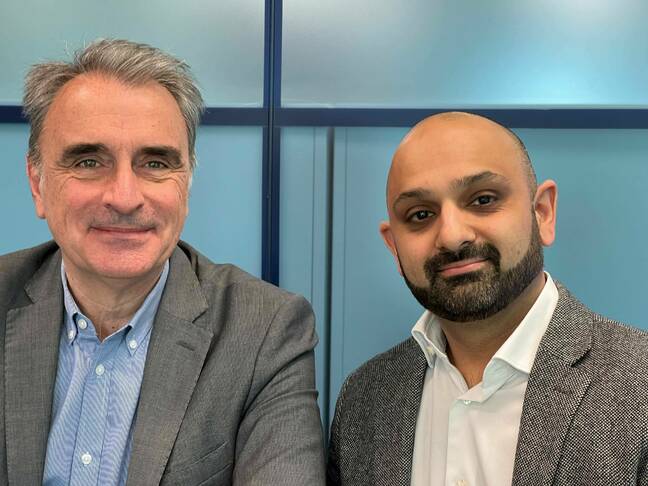 CEO Michel Paulin, left, and Hiren Parekh, VP for Northern Europe
"Because we are not on Azure, and we refuse to resell Azure, the conditions financially, legally, and technically are very different. We pay more... if we agree to resell Azure, most of them change; the pricing changes, it's less expensive..."
Unsurprisingly, Paulin also isn't keen on the antics of the other major cloud vendors, such as Google and AWS. "I think it's not good for customers. Because in the end, if only one or two companies or three companies have 100 per cent of the market, innovation, pricing, everything will be very bad."
In calendar Q1, AWS, Microsoft and Google sucked in 62 percent of customers' spending globally on infrastructure cloud services, according to Canalys.
Paulin worries that due to their size, dominance, and deep pockets, the big tech vendors "have a lot of capacity to impose their solutions on the rest of the world and on the rest of the customers," thus eroding freedom of choice and innovation in the long term.
"Each time there is a new player, which is threatening a little bit, this type of monopoly immediately buys them or they are killed," he tells us.
It all sounds awfully familiar to anyone who has followed the activities of some of the current cloud giants over the years, even those that seem to have a born-again attitude to openness nowadays.
"The cloud should stay open," says Paulin. "Reversible, interoperable."
By "reversible," the CEO refers to the occasionally heart-stopping fees demanded by vendors for extracting a customer's data. "Interoperable," however, brings the EU GAIA-X initiative to mind.
"The principle of GAIA-X," explains Paulin, "is to maintain openness. On paper, everybody is OK; the governments, the customers, and industry."
For the uninitiated, GAIA-X is Europe's data infrastructure initiative to take on the US and Chinese cloud businesses, the idea being to address the concept of digital sovereignty. It started off with 22 members and has swelled to 343, including Microsoft, Amazon, Google Ireland and other titans.
Paulin used the word "sabotage" in reference to some of the players in the project. "They don't want to make in practice the objective, which is to create an open cloud," he said.
As the charge to the cloud accelerates, there is a danger that by the time GAIA-X is ready to go, the world will have moved on to the extent that the initiative is irrelevant. "Yes, this is a threat," Paulin admits. "Speed of execution [and] speed of implementation will be a key factor of success."
"As we are many, it's difficult to find sometimes a consensus to be able to move forward quickly," he adds. And, of course, the processes could end up being delayed by other factors (or contributors perhaps more keen on the status quo), "to be sure that they will never be visible, and they will never be implemented."
According to Paulin, 80 percent of OVHcloud's revenues come from Europe, although the company is keen to expand outside of the region. He also reckons the future is not just hybrid, but also multi-cloud as customers minimize their exposure to local regulations.
"Multi-cloud is the fact that the customer will have the capacity to give workloads, storage, and to exchange data across the different vendors easily. And not very costly. And again, sometimes to be compliant with the constraints of data sovereignty or any type of regulations."
OVHcloud also makes its own servers, and while Paulin is keen to boast of the company's approach to sustainability thanks to its designs that require "zero air-conditioning in our datacenters," OVH is up against the supply chain issues faced by the rest of the industry.
"We have a capacity to switch our CPUs and GPUs and to offer a similar type of services but with different hardware, depending on the how the supplies are working.
"We have stocks," he adds, which goes some way to mitigate the supply chain risk and keep its French and Canadian production lines ticking over.
OVHcloud's stock price is currently not far off its IPO last year, having risen as 2021 drew to a close and subsequently fallen back during 2022. It reported €382 million in revenues for its first half-year 2022 results, an increase of 13.3 percent year-on-year. The company subsequently raised its revenue growth guidance to 15-17 percent from 12.5 to 15 percent. France, however, remains the big beast in terms of its revenues – accounting for nearly half at €190 million. ®