This article is more than 1 year old
Aerospace biz Orbex shows off a prototype Prime on its Scottish stand
What goes up will also come down. The question is... how?
Orbex is showing off a full-scale prototype of the Prime rocket atop its test stand at Kinloss in Scotland.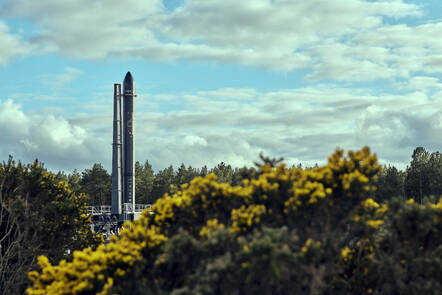 Orbex Prime prototype
In a refreshing change from the PowerPoint and computer-generated visuals so beloved by many in the space industry, the rocket on show was "the full hardware array and not a 'mock-up'," according to a spokesperson.
Orbex Prime is a 19-meter (∼62ft) long two-stage rocket, launched vertically to orbit. Six engines will power the first stage to an altitude of 80km (∼49 miles) and a single engine on the second stage will complete the trek to Low Earth Orbit (LEO) for payload deployment.
The Kinloss test platform is not far from the company's base at Forres in Moray, Scotland.
Actual launches, however, will be from Space Hub Sutherland in the north of Scotland, for which the company has applied for a license from the UK's Civil Aviation Authority.
The Register spoke to company CEO, Chris Larmour, in 2021 regarding the steps required before the first launch from UK soil and things appear to be proceeding to plan, at least the things under the company's control.
In June 2021, Larmour told us: "We're working towards the end of 2022."
How far are we from launch?
Three distinct elements need to be in place before a launch can happen. The spaceport must be ready, the paperwork must be in place, and the rocket needs to be good to go. A spokesperson told us "all three elements are proceeding well," but could not be more specific than late 2022 or early 2023.
It seems almost certain that Orbex will not grab the medal for first UK orbital launch. Prometheus-2 is due to be launched during the summer atop a Virgin Orbit Launcher One rocket, dropped from a modified Boeing 747. The jet, named Cosmic Girl, will take off from Spaceport Cornwall in Newquay.
Other competition, in the form of Lockheed Martin and ABL Space Systems, is gearing up to deliver the UK Pathfinder programme and will make the first European satellite launch from SaxaVord Spaceport in Shetland as soon as this year. Still, there is something to be said for the assembly of an orbital launcher by a British rocket company on British soil.
As for what is now on the Kinloss stand, while it is real hardware, the use in-flight of its components will depend on its condition following integration testing. In addition, for example, some tanks might be intentionally destroyed during burst testing.
Josef Aschbacher, director general, European Space Agency (ESA), professed himself "deeply impressed" with the speed with which Orbex has developed the Prime, noting "it is the first full orbital micro-launcher in Europe."
He also commended the team on its low-carbon footprint technology.
"We are on the cusp of an historic moment," said Ian Annett, deputy CEO of the UK Space Agency. "I can't wait to see Prime lift off from Space Hub Sutherland."
... Or to return? Larmour teased a "novel, low-mass reusability technology" in the announcement, and Orbex has stated: "Prime is also a re-usable rocket which has been engineered to leave zero debris on Earth and in orbit."
Orbex has yet to share what form this technology will take. SpaceX took a propulsive approach. Rocket Lab opted for snagging via helicopter. We look forward to whatever Orbex has in store. ®