This article is more than 1 year old
Arm CPU ran on electricity generated by algae for over six months
AA-battery-sized biological photovoltaic cell touted as ideal for IoT applications
Researchers at the University of Cambridge's Department of Biochemistry have run an Arm CPU for six months using algae as a power source.
As explained in a paper titled Powering a microprocessor by photosynthesis, the biochem boffins built an AA-battery-sized device that hosts an algae named Synechocystis that "naturally harvests energy from the sun through photosynthesis."
The boffins found a way to turn that harvested energy into current by using an aluminium anode, and fed it into a board hosting an Arm Cortex M0+ CPU.
Arm states that device is its most energy-efficient architecture, with one model sipping just 3.8 Microwatts per megahertz.
No – this one can't play Doom, or Crysis. Or any game at all, probably.
But the M0+ does do very well in small, embedded devices that need to go a long time between battery changes – a quality that makes it ideal for Internet of Things devices.
Professor Christopher Howe of Cambridge's Department of Biochemistry thinks many of those devices will do best if they can generate their own power, instead of relying on stored energy. The Prof pointed out that batteries and solar cells can do the job – but also use rare metals and some nasty chemicals, and eventually wear out.
The biological photovoltaic cell does better by producing power continuously, even in low light or at night-time – the algae it contains apparently keeps processing energy even after the sun has stopped shining.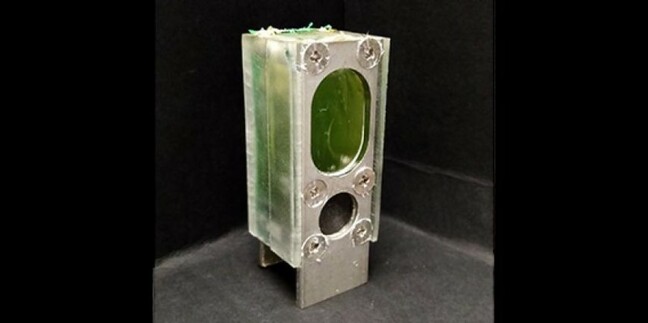 The renewable biological photovoltaic cell
image: Paolo Bombelli under CC 3.0
The test unit covered in the paper was deployed in "semi-outdoor conditions under natural light and associated temperature fluctuations." The researchers behind the project said the gizmo also used "common, durable, inexpensive and largely recyclable materials."
Arm Research developed the test chip used in the trial, built the board, and set up the data-collection cloud interface presented in the experiments.
This one is pure research, without a hint of future productisation. But, as the research points out, humanity plans to deploy a trillion IoT devices in coming decades – ideas on how to do that sustainably are likely to be very welcome. ®