This article is more than 1 year old
Financial giant Santander: 80% of our IT infrastructure in cloud
'Most challenging element of migration likely remains' warns analyst
Spanish financial giant Santander has migrated 80 percent of its core banking IT infrastructure to the cloud as part of its $20.8 billion (€20 billion ) modernization programme, with the help of in-house software created by resident developers.
Readers hoping for a tale of disaster and woe may be sorely disappointed as the bank seems to have made steady progress in the past year compared to April 2021 when some 60 percent of its infrastructure was delivered off-premise.
The $48.3 billion (€46.4 billion) revenue financing giant has a presence across Europe, South America, Asia and North America. It made $3.17 billion (€3.053 billion) of its attributable profit of $8.44 billion (€8.124 billion) in the US last year, it said in its 2021 fy results.
Gravity is the bespoke software being used to assist with the bank's switch of core banking systems that process financial transactions including money transfers, deposits or loans.
Breaking any of these moving parts could have disastrous consequences – just ask TSB, the British bank, which split with parent Lloyds Banking Group IT's infrastructure in 2018, after being sold to Spanish banking giant Sabadell Group in 2015. The sale kickstarted an ill thought-out datacenter migration project that caused hours of downtime for customers and ultimately, cost the CEO his job.
Moving to the cloud is supposed to make it easier to spin up new capabilities in hours, not days. Santander says its own work will let it update apps more frequently and expects to save costs by shifting to the cloud, claiming the cloud push has reduced energy consumption by its IT infrastructure by 70 percent.
The bank is using AWS and Microsoft Azure, as well as its own servers, meaning public and private cloud deployments. Other banks around the world are also grasping the digital nettle, including Deutsche Bank, Lloyds Banking Group and SEB in Sweden. Barclays Bank last year inked a 10-year agreement with HPE to use its GreenLake platform for hybrid cloud.
The Santander Group set aside $20.8 billion (€20 billion) for digital transformation in 2020 to create global platforms and improve the customer experience by elevating the services they use. Some 3,000 developers were hired in the first year, taking the tally to 16,500.
"Gravity will help transform Santander into a 'digital native' company," said Dirk Marzluf, chief operating and technology officer at Banco Santander. "The initiative is an important next step in the bank's transition to a common tech stack that is utilized across the group's footprint."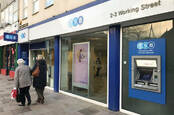 Totally Subcontracted Business: TSB to outsource entire IT estate to IBM for a cool $1bn after 2019 meltdown
READ MORE
He claimed the company is edging "closer to Santander's aim of becoming the best open financial service platform."
The modernization project is scheduled to be completed by 2024, according to Santander's original timetable. It also includes implementing machine learning and robotics, as well as reengineering processes.
According to Santander CEO Jose Antonio Alvarez, it had 50 million digital customers in the March quarter, up more than 10 percent on a year earlier and online transactions were growing at 50 percent.
Jon C Davies, research director at TechMarketView, said of the project: "The nature of such technology initiatives means that the most challenging elements of the cloud migration are likely to still remain. As a result, it is not necessarily straightforward to predict just how long Santander still has to go before its cloud journey is complete."
So there may be some war stories to report on before Santandar's project is done ands dusted. Or maybe not. ®