This article is more than 1 year old
Pentagon opens up about its database of 400 smudges that may or may not be UFOs
'We're open to all hypotheses, we're open to any conclusions' says official
A US House of Representatives subcommittee on Tuesday heard from Pentagon officials on reports of and investigations into unidentified aerial phenomena (UAP) – a category that encompasses unidentified flying objects (UFO) and saves room for optical illusions, lens flare, smudges in photos, and other possibilities like meteorological events.
The US military has researched UFOs in the past through initiatives like Project Blue Book (1947-1969), and the Pentagon's Advanced Aerospace Threat Identification Program (AATIP) (2007-2012).
Following a New York Times report in 2017 about the shutdown of the classified $22m AATIP program, public pressure and Congressional interest led the Office of the Director of National Intelligence last June to release a preliminary report on UAP [PDF] dating back to 2004.
The dossier identified 144 UAP reports from US government sources, 14 of which exhibited unusual flight characteristics. Over the past twenty years, around 400 still-unidentified phenomena had been reported, the House was told.
"Some UAP appeared to remain stationary in winds aloft, move against the wind, maneuver abruptly, or move at considerable speed, without discernible means of propulsion," the report stated. "In a small number of cases, military aircraft systems processed radio frequency (RF) energy associated with UAP sightings."
The report's primary conclusion is that the limited amount of high-quality data on UAP "hampers our ability to draw firm conclusions about the nature or intent of UAP."
Hence, it recommended consolidating and streamlining the reporting of UAP across the US government to develop a better understanding of such incidents. And why not, since such inquiries will be funded by US taxpayers.
It's official, the search is on
The US Congress's $770bn National Defense Authorization Act for fiscal 2022 calls for the creation of a permanent federal office within the Department of Defense to investigate and report on UAPs.
The as-yet-unnamed office looks likely to replace or perhaps refurbish and rename the Airborne Object Identification and Management Synchronization Group (AOIMSG), formed in November to replace the Navy's Unidentified Aerial Phenomena Task Force (UAPTF), formed in 2020.
At the hearing this week, Scott Bray, the Deputy Director of Naval Intelligence, revealed that the Pentagon's UAP task force database currently contains about 400 reports. The primary concern about unidentified flying things is that they may pose a risk to aviators or threaten national security.
Bray said since the early 2000s, the military has seen an increasing number of unauthorized and or identified aircraft or objects in US airspace. He attributed the increase to several factors, including the military's work to destigmatize reporting, the proliferation of drones, detection of "air trash" like Mylar balloons, and sensor improvements.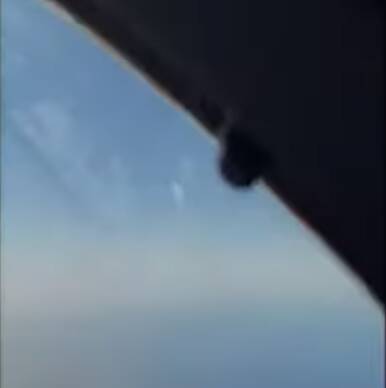 An incredible still from the subcommittee hearing showing an example of an unidentified aerial phenomena soaring past an aircraft ... Click to enlarge (Source)
The stigma Bray referred to reflects the reluctance of serious scientists to respond to unsupported claims that UAPs may be extraterrestrial spacecraft – a common conclusion in popular culture and mass media, but not something that's been backed by evidence.
Bray at the hearing made an effort to distance the government's inquiry from the sort of investigations depicted in shows like The X-Files. "We have detected no emanations within the UAP task force that would suggest it's anything non-terrestrial in origin," he said.
Eric Crawford, (R-AR), ranking member of the House Counterterrorism, Counterintelligence, and Counterproliferation (C3) Subcommittee, offered similar sentiment.
"It's not about finding alien spacecraft. It's about delivering dominant intelligence across the tactical, operational, and strategic spectrum," he said.
There's still hope
Nonetheless, Pentagon officials faced pressure to address public concerns about and interest in UAPs and public mistrust of past attempts to explain unidentified aerial objects.
"One of Congress's concerns is that the executive branch [under both parties] has been sweeping concerns about UAPs under the rug by focusing on events that can be explained and avoiding events that cannot be explained," said Rep André Carson (D-IN), chairman of the C3 subcommittee.
"What can you say to give the American people confidence that you aren't just focusing our attention on low-hanging fruit with easy explanations?"
Ronald Moultrie, Under Secretary of Defense for Intelligence and Security, responded by asserting the military is taking a more rigorous, methodical approach at the behest of the Secretary of Defense.
Asked to provide assurances the military will follow the facts wherever they lead, Moultrie responded, "We're open to all hypotheses, we're open to any conclusions that we may encounter."
Then, as if to pander those disinclined toward science, reality, data, and the possibility that some things may not be easily explained, Carson then asked if Moultrie was a science-fiction fan. Moultrie said he was, like many who grew up watching the Apollo space program.
"I have mentioned to you that, yes, I have followed science fiction," he said. "I have gone to conventions, even, I'll say it on the record. Gotta break the ice somehow," he said.
"I have done that, but there's nothing wrong with that. I don't necessarily dress up, but I do believe it's important to show that the Department of Defense, we have character. And we're people just like you, just like the American people. We have our inquisitiveness. We have our questions.
"We want to know what's out there just as much as you want to know what's out there." ®