This article is more than 1 year old
Lawmakers launch bill to break up tech giants' ad dominance
Running ad auctions while also buying and selling ads may be outlawed for large firms
A bipartisan group of US lawmakers has proposed legislation that would likely force Alphabet's Google, Meta's Facebook, and Amazon to divest portions of their ad businesses.
The bill, called the Competition and Transparency in Digital Advertising Act (CTDA), was introduced on Thursday by Senator Mike Lee (R-UT), with the participation of Senators Amy Klobuchar (D-MN), Ted Cruz (R-TX), and Richard Blumenthal (D-CT).
The bill would prevent large ad companies from participating on different sides of the ad transaction chain. Large ad firms could operate supply-side brokers selling publisher ad space, demand-side brokers selling ads, or ad exchanges connecting buyers and sellers – but not more than one of these.
Similar to rules governing financial trading, the bill forbids entities with more than $20bn in annual digital advertising revenue from participating in the online ad ecosystem in a way that creates conflicting interests, such as simultaneously buying ads, selling ads, and operating the ad exchange that handles those transactions.
It also imposes obligations on ad business firms bringing in more than $5bn in digital ad transactions. These include: acting in the best interest of customers (eg striving to get the best bids for ads); providing transparency so customers can verify that; separation of concerns if operating on both the buy and sell side of the market; and fair access to all customers.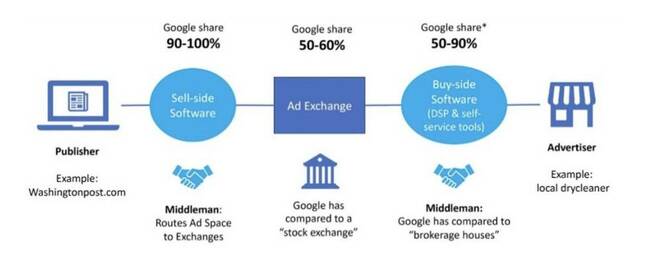 Graphic from bill summary
The legislation aims to address anticompetitive practices such as those Google has been accused of, like Project Bernanke, described in the Texas antitrust case against the Chocolate Factory as an initiative to ensure that advertisements booked via Google's ad system AdX would win auctions for ad space on websites.
"Companies like Google and Facebook have been able to exploit their unprecedented troves of detailed user data to obtain vice grip-like control over digital advertising, amassing power on every side of the market and using it to block competition and take advantage of their customers," said Senator Mike Lee in a statement. "The conflicts of interest are so glaring that one Google employee described Google's ad business as being like 'if Goldman or Citibank owned the NYSE.'"
The CTDA, if approved and signed into law, would be enforced by the US Justice Department. However, for large firms ($20bn+) that violate the obligations imposed on firms at the lower revenue threshold ($5bn+), there's a private right to action. That means if Google, Facebook, or Amazon disregard the transparency or best interest requirements, they could be sued by affected individuals rather than waiting for Justice Department intervention.
The summary information [PDF] provided by Senator Mike Lee's office says, "If enacted into law, this bill would most likely require Google and Facebook to divest significant portions of their advertising businesses—business units that account for or facilitate a large portion of their ad revenue. Amazon may also have to make divestments, and the bill will impact Apple's accelerating entry into third-party ads."
Apple does not separate its ad revenue from its services business but estimates suggest the iBiz made about $3.7bn selling ads in 2021. Assuming Apple continues to grow its services business, the company will eventually meet the $5bn threshold.
"Our bipartisan bill would guard against immense conflicts of interest in today's digital advertising market," said Senator Richard Blumenthal in a statement. "Big Tech claims that it simply presides over an open and free market, but in a truly free market the same party can't represent the seller, the buyer, make the rules, and conduct the auction. And that is unacceptable in a free enterprise system – it hurts consumers and it hurts competition."
Google, Facebook, and Amazon did not immediately respond to requests for comment. ®