This article is more than 1 year old
Infosys board asks boss Salil Parekh to stay another 5 years
As staff churn at 27% a year, senior execs offered lots of shares to keep growth coming
Infosys has extended Salil Parekh's term as CEO and managing director for an additional five years, according to a stock exchange filing made on Sunday.
Parekh, who took on the role in January 2018, will now lead the IT services giant until March 2027, states the letter [PDF] penned by company secretary AGS Manikantha.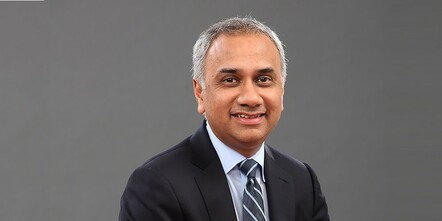 Salil Parekh
Parekh took over from UB Pravin Rao, who served as interim CEO after Vishal Sikka departed, citing constant attacks over unproven allegations he allowed improper payments to executives.
Under Parekh's leadership, Infosys increased revenue from 2018's $11.8 billion to $16.3 billion in 2021.
The CEO was gifted a digital transformation boom and the cost cuts and demand surge that came with the COVID-19 pandemic.
His time in charge has also seen some controversy.
In 2019 anonymous letters were sent to a board director at Infosys, as well as the Washington DC-based Office of Whistleblower Protection, alleging unethical accounting practices.
The company has also had trouble with contracts at home. Infosys won a contract to build and maintain India's digital GST system in 2015, but thanks to a "technical glitch" – one of many over the years – the government was forced to delay tax payment deadlines last week. The company also has a contract to build India's income tax portal, but it endured a messy launch, proved buggy, and saw Infosys lashed by local politicians.
Staff attrition has been a problem for all of India's big services companies, but Infosys has reported 27 percent of staff leaving each year – compared to industry average attrition among India's big services companies of 22.7 percent.
One of Infosys's tactics to deal with attrition – broad non-compete clauses – earned the company criticism from IT labor rights organization Nascent Information Technology Employees Senate (NITES).
India's government has held two "please explain" meetings at which Infosys was asked to appear, but the company has failed to show. A third meeting is scheduled for May 26.
While lower-level staff ponder those non-compete clauses, Infosys has determined its execs should be granted shares "to ensure continuity and commitment of the leadership of the organisation for driving the growth journey over the next few years."
The company's Nomination and Remuneration Committee has therefore approved a grant of 104,000 shares to six "key managerial personnel" and another 375,760 shares to 88 other senior executives of the organization.
"These Performance Stock Units will be granted under the Infosys Expanded Stock Ownership Plan 2019, and will vest over three years on the achievement of certain milestones, in line with the plan approved by shareholders. The date of the grant … shall be June 1, 2022," the stock exchange filing states. ®