This article is more than 1 year old
Foxconn factory fiasco could leave Wisconsinites on the hook for $300m
What's Mandarin for 'Where's my money?'
For five years, Foxconn promised and spectacularly failed to build a much-hyped sprawling factory near Mount Pleasant, Wisconsin. Now, the area's leaders may be saddled with $300 million in bond repayments that the Taiwanese iPhone maker had promised to repay. 
According to the Wall Street Journal, Foxconn agreed to pay $36 million annually across a 20-year term to pay for the surrounding infrastructure supporting the now-abandoned 3,000-acre site. Those payments are scheduled to start next tax year, and local leaders told the newspaper they're counting on Foxconn's cash to maintain the site while they try to attract another occupant. 
Finding an occupant hasn't been easy. Intel, which announced a $20 billion investment in two chip factories in Ohio in January, was also considering Wisconsin for the project, with its focus on Racine, the nearest large city to the proposed Foxconn plant. 
The other option to cover the costs would be a total Foxconn pullout, which state officials said would let the government sell the land, assessed at a value of over $500 million.
Ultimately, we're told, Foxconn promised to cough up $300 million to cover bonds for the infrastructure, whether the plant went ahead or not, but with that deal in tatters, it's now not clear if the money will be paid.
'Eighth wonder of the world' still just a dream
Foxconn was lured to Wisconsin by now-former state governor Scott Walker (R) and a $3 billion tax incentive package for it to build a massive LCD manufacturing facility, which then-President Donald Trump heralded as the "eighth wonder of the world."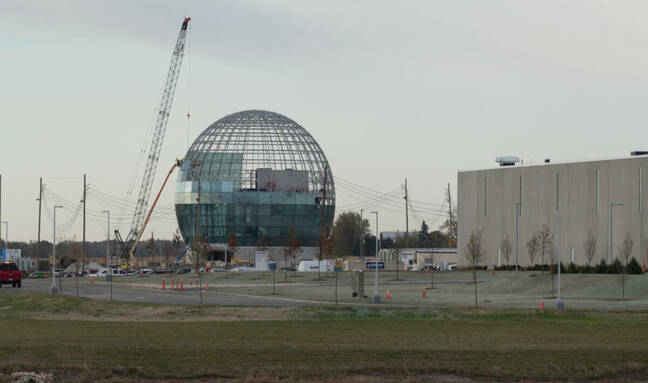 Above and below: Construction on the project was still underway in 2020 while the US state was still trying to renegotiate its original 2017 contract with Foxconn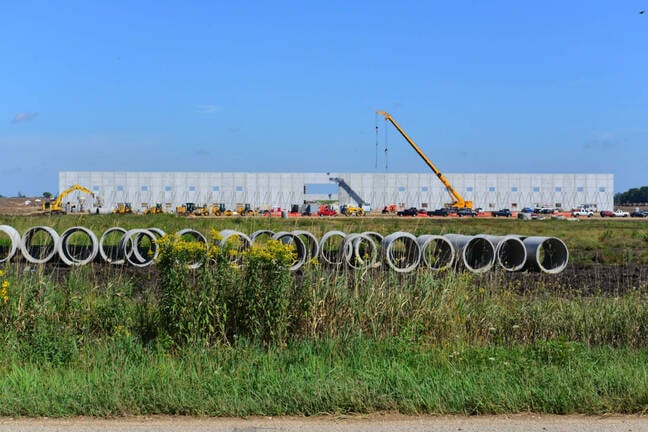 The deal required Foxconn to meet hiring numbers, which is where things began to go awry. The company manipulated that requirement the first year it operated in Wisconsin by hiring people at the end of a reporting period and laying them off a short time later.
Hiring hasn't progressed much since then, with recent numbers suggesting fewer than 600 people have been recruited for the Mount Pleasant site, many of whom are reportedly sitting idle with nothing to do since the promised factory lines largely still don't exist.
Thirty thousand jobs were promised in Foxconn's original deal with Wisconsin. That number has been revised down several times, and now sits at 1,454, arrived at as part of a rehashed 2021 agreement between Foxconn and current Wisconsin governor Tony Evers (D). 
The 2021 deal also reduced Foxconn's pledged $10bn investment to $672 million and changed the scope of its facility near Racine from being an LCD factory to an undefined "manufacturing ecosystem" facility. Foxconn also reportedly considered using the site to make electric vehicles and other electronics, but nothing has come of any of its announcements. 
Unfortunately for Wisconsin, Foxconn's electric vehicle ambitions may push even more big tech companies to consider migrating further south: it recently agreed to buy EV startup Lordstown Motors' Ohio factory for $230 million. ®