This article is more than 1 year old
How Intel can use its Granulate acquisition to maintain cloud footprint
Software-tuning suite could be used to show where and how Xeon trumps rivals, if customers can believe it
Analysis Intel is facing tough competition in the server CPU space, and one way it's trying to stand out — besides trying to make better chips — is its newly acquired Granulate cloud optimization software business that aims to improve application performance and reduce infrastructure costs.
The chipmaker has pitched its most recent software acquisition — which was announced in March and closed earlier this month — as a way to continuously optimize complex and older datacenter workloads for modern CPU cores without needing to make any code changes. This, according to Granulate, can help organizations reduce infrastructure costs by as much as 40-60 percent.
But in a presentation at the Intel Vision event, company representatives hinted at how Granulate's software could help the x86 giant defend its waning dominance in the cloud market.
Our view of this new software-aided cloud strategy boils down to a few key facts and observations, the first of which is that Granulate's cloud optimization software works not just with Intel silicon but also AMD CPUs and Arm-compatible chips such as Amazon Web Services' Graviton.
Intel confirmed Granulate's multi-architecture support in a recent interview with The Register as well as at a panel at this month's Intel Vision, where it made the sales pitch for the optimization business, which Intel acquired as part of its growing commercial software strategy.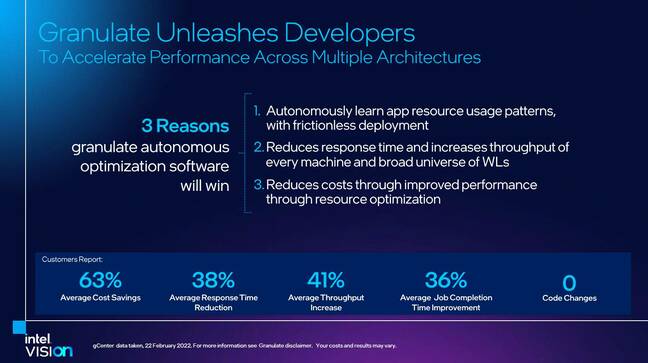 The marketed benefits of Granulate, according to Intel ... Source: Intel Vision presentation slide. Click to enlarge images.
Jason Kennedy, who runs Intel's Xeon product strategy, told us that while the semiconductor giant is "relentlessly" trying to grow its CPU footprint in the cloud, Granulate does give Intel a way to keep making money from those who shift datacenter workloads to competing architectures.
"In the hopefully increasingly rare areas where [customers] land on competitors' infrastructure, we're still having an opportunity with Granulate to be involved in that revenue stream as well," he said.
The thing is, we don't think Intel acquired Tel Aviv-based Granulate just to diversify its revenue sources. We believe Intel intends to use the freshly acquired software business as a sales tool that will use real data to sell customers on the capabilities of the silicon titan's Xeon processors.
This was laid out at the Intel Vision presentation, where Granulate CEO Asaf Ezra and Intel datacenter engineer Josh Hilliker outlined the software business' two key capabilities. The first is a free, open-source tool called gProfiler that continuously analyzes a system to identify so-called bottlenecks that are slowing down the performance of an application.
The second is a paid software agent called gAgent that learns how data flows through the system and then makes operating system-level "scheduling and prioritization decisions regarding CPU, locks, caches, and memory accesses to improve an infrastructure's application-specific performance," according to Granulate.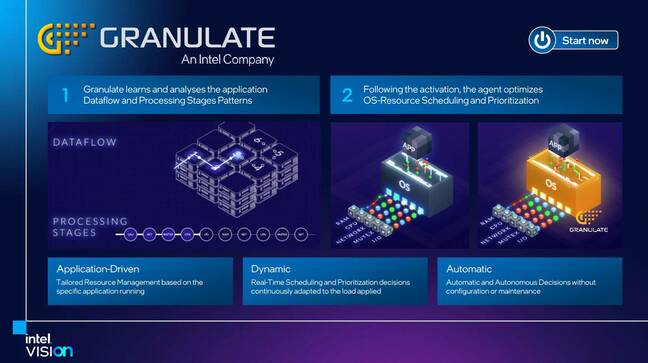 How Granulate's gAgent software automatically optimizes applications in the datacenter
During the Intel Vision presentation, Hilliker said the chip giant and partners can use the gProfiler tool to provide customers a set of recommendations for optimization they can implement to improve application performance and lower costs. The x86 giant calls this the "Intel Optimization Blueprint."
"gProfiler is that huge enabler to go identify what you have and what you can do," Hilliker said.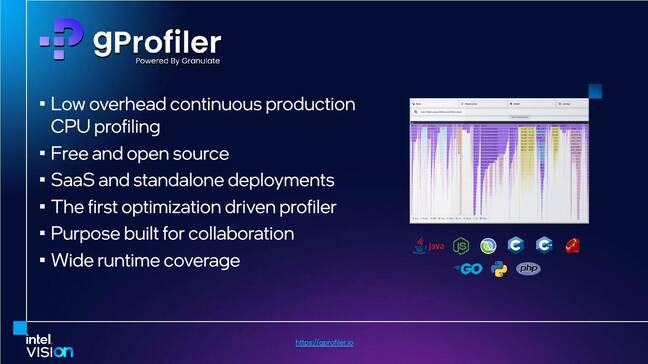 The selling points for Granulate's open-source gProfiler tool. Click to enlarge.
In a set of examples given by Hilliker, one recommendation was to use Granulate's gAgent to improve CPU utilization for Java and Ruby applications, which can result in cost savings achieved by smaller Kubernetes clusters and right-sized cloud instances. Another was to update Oracle's Java Development Kit to the most recent version to improve the response time for the Apache Spark data lake.
There were a few other recommendations given as examples that pointed to how Intel could use Granulate's gProfiler as a tool to promote Xeon. One recommendation example was to switch to AWS instances powered by Intel's third-generation Xeon Scalable processors to improve overall performance by up to 40 percent while another was to offload CPU cycles for Mongo and MySQL applications to the cryptography acceleration engines that are built into the latest Xeons.
"Easily looking at what instance are you on, is crypto enabled correctly? We can make a quick modification to do that," Hilliker said in reference to the cryptography acceleration example.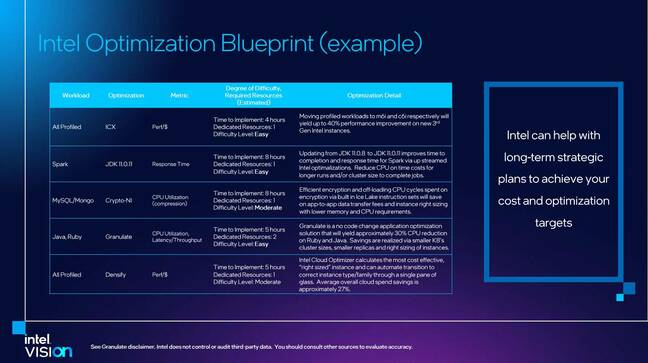 An example of an Intel Optimization Blueprint that could be generated based on Granulate's free, open-source gProfiler tool. Click to enlarge.
From these examples, we inferred that Intel could make these recommendations for customers who are running gProfiler on cloud instances powered by competing architectures. But there initially appeared to be disagreement on this between Hilliker and Ezra, Granulate's CEO, during the Intel Vision panel.
After confirming that gAgent and gProfiler will work on CPUs made by other companies, Hilliker initially said those who are using competing architectures won't get the Intel Optimization Blueprint.
But Ezra disagreed with Hilliker's statement and said the blueprint can "give the customer a new understanding of what Intel can bring them." That prompted Hilliker to reconsider his position.
"So if you have a different silicon, we may bring that up as an option of, 'hey, FYI, if you went to Intel, this is what you can get,'" he said.
Given that Intel reportedly paid $650 million to acquire Granulate and decided to position the deal as a significant development to shareholders, we think Ezra's suggestion is likely more reflective of how Intel plans to use the software in the future.
The move would be consistent with other efforts Intel has taken in recent years to promote the benefits of Xeon in the cloud, where chips designed by AMD and Arm are finding increasing favor.
For instance, Intel is working with another startup, Densify, on a different kind of cloud optimization tool that focuses on total cost of ownership. The company has also run a pilot with a major cloud reseller on optimizing Google Cloud instances running on Xeon.
One big question is, if Intel is using gProfiler to help customers determine when Xeon processors can enable better performance and lower costs than competing chips, is the open-source tool capable of doing the opposite? Will it, for instance, eventually recognize any benefits that could come from the AI engines that AMD has teased for upcoming Epyc CPUs?
If Intel can use gProfiler to more easily demonstrate how its silicon differentiates from competitors, this could give Xeon a boost in the cloud market. But in order for it to work, customers will need to accept that any recommendations, no matter how much data they're driven by, are still coming from a biased source. ®