Confirmed: Broadcom, VMware agree to $61b merger
Unless anyone out there can make a better offer. Oh, Elon?
Broadcom has confirmed it intends to acquire VMware in a deal that looks set to be worth $61 billion, if it goes ahead: the agreement provides for a "go-shop" provision under which the virtualization giant may solicit alternative offers.
Rumors of the proposed merger emerged earlier this week, amid much speculation, but neither of the companies was prepared to comment on the deal before today, when it was disclosed that the boards of directors of both organizations have unanimously approved the agreement.
Michael Dell and Silver Lake investors, which own just over half of the outstanding shares in VMware between both, have apparently signed support agreements to vote in favor of the transaction, so long as the VMware board continues to recommend the proposed transaction with chip designer Broadcom.
This is despite the $61 billion stock-and-cash offer coming in at less than the $64 billion that VMware was valued at when the virtualization pioneer was spun out of Dell Technologies as an independent company last November. Broadcom will also assume $8 billion of VMware net debt.
The deal is naturally subject to the usual regulatory approvals as well as shareholder agreement, and the transaction is expected to complete in Broadcom's fiscal year 2023, which is due to start in November.
However, the merger agreement has a "go-shop" provision under which VMware may seek alternative offers from other interested parties and potentially enter negotiations with them during the next 40 days.
If it goes ahead, the merger will see Broadcom's Software Group rebrand and operate as VMware, incorporating Broadcom's existing infrastructure and security software solutions as part of an expanded VMware portfolio, according to the statement issued by the two companies.
The enlarged VMware will then be able to offer enterprise customers an expanded platform of infrastructure solutions that will "accelerate innovation and address the most complex information technology infrastructure needs," the statement says.
Broadcom's current software portfolio is made up of DevOps, AIOps and IT security products from CA Technologies and Symantec, which it acquired in 2018 and 2019, respectively.
So what does Broadcom hope to achieve by acquiring VMware? One of our colleagues here at The Register has already given their analysis. The statement from the two companies also indicates another reason: the merger is expected to add approximately $8.5 billion of pro forma EBITDA (i.e. revenue) to Broadcom's coffers within three years of the deal closing.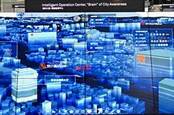 Broadcom buying VMware could create an edge infrastructure and IoT empire
MUST READ
This point is backed up by analyst outfit Forrester, which believes that one reason for the deal is to secure Broadcom a steady source of income in a volatile semiconductor market.
"VMware enjoys a stronghold in the enterprise IT software business delivering strong revenues and margins," said senior analyst Naveen Chhabra. "Public companies are facing a bear market situation. Some economists anticipate more market corrections. If and when that happens, we can expect investors to be active, at least for firms that offer steady returns without significant capital investments."
Broadcom President and CEO Hock Tan said the transaction will "combine leading semiconductor and infrastructure software businesses with an iconic pioneer and innovator in enterprise software as we reimagine what we can deliver to customers as a leading infrastructure technology company."
Broadcom's semiconductor business includes networking silicon, and VMware has been ramping up its software-defined networking capabilities over the past several years, so it isn't too much of a leap of the imagination to see how closer cooperation between the two sets of engineers could lead to some interesting outcomes.
VMware has also been working closely with Nvidia on adding support for Arm-based Data Processing Units (DPUs) to its platform to offload some workloads from an x86 host to a DPU, and Broadcom is also a maker of Arm-based network chips, making the synergy here obvious as well.
Dennis Smith Research VP in Gartner's Infrastructure and Operations division said the merger makes some sense if you stop regarding VMware as just a legacy hypervisor business.
"VMware has transformed a lot over the last 18 to 12 months to hybrid cloud capabilities with products such as Tanzu and its cloud management tools," he told us.
"There are synergies with some of the CA tools for CI/CD and DevOps that could combine well with Tanzu, for those enterprises that are considering what to do with their legacy workloads," Smith added. But he also cautioned that Broadcom had to avoid the mistakes it made with past acquisitions, such as increasing product prices post-merger.
Broadcom's revenue for its second quarter of fiscal year 2022, ended May 1, was up 23 percent year-on-year to $8.1 billion, driven by its strengths in networking and server storage, the company said. ®