This article is more than 1 year old
Slack-for-engineers Mattermost on open source and data sovereignty
Control and access are becoming a hot button for orgs
Interview "It's our data, it's our intellectual property. Being able to migrate it out those systems is near impossible... It was a real frustration for us."
These were the words of communication and collaboration platform Mattermost's founder and CTO, Corey Hulen, speaking to The Register about open source, sovereignty and audio bridges.
"Some of the history of Mattermost is exactly that problem," says Hulen of the issue of closed source software. "We were using proprietary tools – we were not a collaboration platform before, we were a games company before – [and] we were extremely frustrated because we couldn't get our intellectual property out of those systems..."
He adds: "So we ... think of Mattermost as having two core principles: One is easily understandable, because everyone talks about it – they know it – which is open source.
"The source code is open, you can go and modify it, do it, whatever you want. Add to it. You don't like what we're doing? Fork it and go do what you want."
Data sovereignty
Controlling where one's data is stored is coming under increasing scrutiny from regulators, making communication and collaboration a stickier problem for organizations that want control and access to their data.
The comms platform facilitates chatting with a colleague halfway across the world, but businesses might well be thinking: where is our data right now?
Hulen says he thinks of the data sovereignty issue, what he sees as Mattermost's second core principle, as equally as important.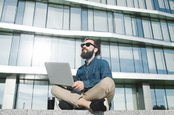 Slack smackback: There's no IRC in team (software), say open-sourcers
READ MORE
"So in our world it's your data, we want you to own it, right? We don't want to be locked in. We specifically chose sort of MySQL technology for that reason.
"It's a schema in the database, there's no secret sauce to it, you can hook up anything to it and get your data out or do your own joins, queries or views on it, there's no 'special' schema to it."
Mattermost says while its many messaging rivals require a hop into their respective clouds, Mattermost's solution is as happy on-premises or self-hosted as it is in a secure cloud.
"Europeans in general," Hulen continues, "really value their privacy. We Americans really haven't caught on to that kind of concept yet… not as across the board as it is here." (The Reg was speaking to Hulen at the Kubecon event in Valencia, Spain.)
Hulen adds: "Not only privacy is very important, data sovereignty is very important. And so those are all the things I think sort of play to our strengths. Mattermost is open source, it can run on-prem, it also runs in our cloud.
"But if you run it on prem, you can run it in your own datacenters behind your own firewalls, and that's where a lot of our successes come from."
Hulen highlights government institutions and private customers keen on the approach.
But what of standards, such as EU digital sovereignty project Gaia-X?
"We always like to try to participate in standards and stuff like that," says Hulen, "But at the end of the day, you know, we're open source. I don't think you can get a better standard than that…"
Mattermost is keen on integrations. "We do a lot of things to make integrations easier," says Hulen, "Like, as an example, our web hooks and slash commands are binary level protocol compatible with Slack.
"So more than likely if you have a Slack webhook or slash command that works, it'll just work in Mattermost. So we've put a lot of effort towards stuff like that as well, just making integrations sort of seamless and easy.
Not so easy, however, is the conferencing taken for granted by many during the sudden shift to remote working. To that end, audio conferencing and screen-sharing is very much on the cards for an impending release, even if video will not be joining the party.
"What we found from our user base," says Hulen, "especially because they're really doing things like incident response and crisis management, [is that] people just want a war-room. They want an audio bridge. They just want to get everybody into the channel and start working the issue and be able to have an audio bridge right there with screen-share."
So no funky backgrounds or amusing video effects. Just a collaboration platform that won't give regulators the jitters. ®