This article is more than 1 year old
Huawei claims it's halved the time needed to build a 1,000-rack datacenter
Promises modular kit gets you up and running in six to nine months, with AI-powered ops to make it efficient
Huawei has entered the datacenter construction business with an offering that it claims can be built in half the time required by competing methods, then run more efficiently.
The prosaically named "Next-Generation Datacenter Facility", as depicted in a video posted to Chinese social media, employs suspiciously-shipping-container-sized modules stacked into a larger building.
In the video, a pre-school girl and her father use Lego to assemble a cube-shaped building. The scene cuts to film of a very similar building under construction in the real world, before the director makes sure the metaphor can't be missed by morphing the Lego and actual buildings, as depicted below.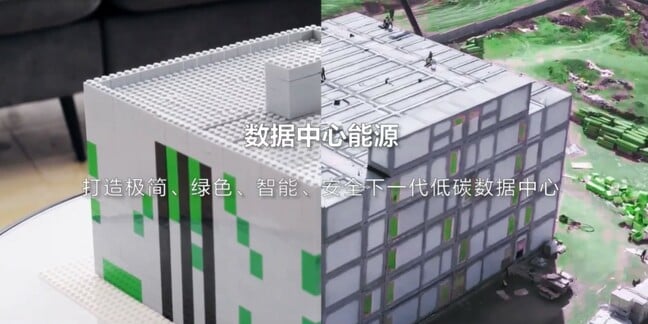 Click to enlarge
But Huawei's banking on speed and low cost, not cinematic subtlety. The Chinese giant asserts that its approach to big barn building means a thousand-rack facility can be up and running within six to nine months, compared to 18 months for bespoke jobs.
The company's also created a power supply it asserts is simpler than those offered by rivals, as it can be delivered in two weeks instead of two months.
"Simplified cooling maximizes heat exchange efficiency by changing multiple heat exchanges to one heat exchange, and shortening the cooling link," Huawei's enthused.
The Next-Generation Datacenter Facility also includes Huawei's very own automation and AI-infused optimization tools, said to be capable of fine-tuning cooling to make it more efficient. Power is a major cost for datacenter operations, so if Huawei has done this well it will be appreciated.
The Chinese mega-corp has not said if the datacenters require the presence of Huawei products to realize the promised benefits.
China has introduced a plan to relocate five million datacenter racks from the crowded east of the country to ten designated datacenter precincts in nation's western sparsely-populated west. That's one obvious market where rapid datacenter builds will be in demand. If Huawei wins even 20 percent of that business, it'll be building 1,000 of these datacenters!
Quick builds will also be appreciated elsewhere around the world. Whether Huawei's design is welcomed by governments remains to be seen. The company's well documented troubles have centered on its role as a network equipment provider representing a risk of network disposition information, or actual data, reaching Beijing. The contents of a datacenter also represent very useful information to a nation credibly accused of using state-backed groups to conduct offensive cyber-ops.
Huawei denies it would ever act against clients' interests, or in ways that violate local laws, or would willingly be used an agent of China's intelligence services.
Modular datacenters based on shipping containers are not new, and one facility that used such a design – OVH's Strasbourg facility – infamously went up in flames.
Huawei's stated that this design is resilient and environmentally responsible, in addition to offering rapid builds. ®