Enemies Waymo, Uber now friends making self-driving-ish trucks for US highways
When you think about it, it makes cents
Waymo and Uber announced on Tuesday a "long-term strategic partnership" promising to work together to deploy autonomous freight trucks on US roads, years after both companies fought bitterly over self-driving technology. 
The collaboration will see Waymo retrofitting trucks with its AI-powered driving software operating on Uber's logistics and network infrastructure. Shippers can tap into the Uber Freight service to connect with truckers willing to deliver their goods across the country. Vehicles running the Waymo Driver software will be able to complete part of the journey autonomously, although human drivers will still need to be present.
"With trucking, we plan to first tackle highway driving," a spokesperson from Waymo told The Register. "It's a natural environment to start this deployment due to the large number of highway miles, which are often the most tiring stretches for humans to drive, and which are a large opportunity to improve efficiency in the industry."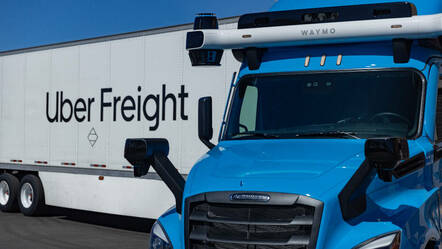 Now pals ... Snap from Waymo and Uber showing their trucks together
Uber Freight currently supports over 130,000 drivers in its network delivering products for thousands of shippers, ranging from small businesses to top names like Nestlé or LG. Services such as onboarding, load booking, trailer transfers, and payment are all handled by the platform, making it easier for shippers to organize deliveries. Under the partnership, the Google spin-off's trucking service Waymo Via will reserve billions of miles of its goods-only capacity from the Uber Freight network.
They will also both collaborate on programs like Uber's Powerloop, setting up capabilities for transfers between autonomous trucks and human drivers. Both companies stressed the need for a hybrid network, where self-driving freight vehicles still require human assistance. 
"Our test trucks have two autonomous specialists in the rig (one fully licensed professional truck driver and a co-driver). As our system's autonomous driving capabilities mature, in full consideration of our simulated and actual testing and driving metrics, we will begin to gradually move into fully autonomous operation, and then scale deliberately," the Waymo spokesperson told us.
Humans and machines working together will streamline global supply chains as demand rises amid increasing fuel costs and a shortage of drivers, both companies think.
"Uber Freight's extensive, efficient, and reliable digital network is essential to making autonomous trucks a reality," Lior Ron, head of Uber Freight, said in a statement.
"We are uniquely positioned to be the preferred network for autonomous trucks, with the scale and the marketplace expertise to deploy autonomous trucks in a way that benefits the entire industry. This partnership is an exciting leap forward, and ​​we are proud to work alongside the amazing team at Waymo Via to pioneer a hybrid freight network that truly empowers carriers and will ring in a new era of logistics."
The partnership between Waymo and Uber marks a turning point in their relationship. They formally fought each other in court in a years-long battle over self-driving IP after a former top Waymo engineer, who pleaded guilty to stealing self-driving car trade secrets from the company, moved to work at Uber.
Waymo and Uber settled their legal disagreements in 2018. Meanwhile, the engineer, Anthony Levandowski, was sentenced to 18 months in prison in 2020 and was pardoned by outgoing President Trump in 2021. ®