OVHcloud datacenter fire last year possibly due to water leak
French investigative report draws no conclusion but hints at inverter malfunction
Late last month, France's BEA-RI, or Bureau of Investigation and Analysis on industrial risks, issued its technical report on the March 10th, 2021 fire at the OVH datacenter in Strasbourg.
The French report [PDF] and summary [PDF] echo the findings of the Bas-Rhin fire service in March, 2022 that the lack of an automatic fire extinguisher system, the delay of electrical cutoff and the building design contributed to the spread of the blaze.
The BEA-RI findings also hint at a possible cause – a water leak on an inverter – while stating that the cause has not been conclusively determined.
The fire started around 0035 on March, 10, 2021, according to the report, almost simultaneously in rooms F and G of SBG2, a five-story datacenter.
It then spread to adjacent buildings SBG1, where it partially destroyed four of 12 rooms, and SBG3, where it affected the inter-building area between SBG2 and SBG3. The fire was subdued around 1000 after the electrical network was cut off and a pump boat arrived.
"It is difficult to say what the operating mode of the energy rooms was when the failure occurred," the report [PDF] says. "The BEA-RI asked OVH to obtain the operating parameters of the inverters (voltages and intensities delivered, mode of operation, etc.) at the time of the equipment failure."
But OVH evidently did not have that information.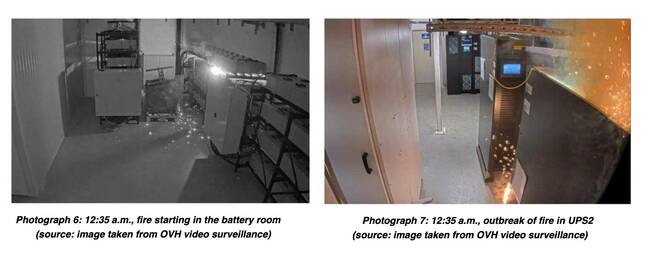 Photos from the BEA-RI report ... Click to enlarge
The report continues, "The video surveillance system and the monitoring of the site's fire control panel show that an electrical fault has occurred at the level of the UPS2 and at the level of the batteries connected to it. The UPS and associated batteries were not in the same room."
Ambient temperature and humidity increases are said to have occurred around 0030 but BEA-RI could not establish whether this was a measurement error or due to the increased presence of liquid.
"The presence of a liquid or moisture in an electrical device can cause the formation of an internal short circuit likely to cause the damage observed," the Google translated report says, noting that these elements alone are insufficient to establish the cause of the failure.
"It is not possible, at this stage, to establish the cause of the failure at the level of the UPS which could be explained by various hypotheses (presence of liquid or humidity linked to the presence of the cooling system located nearby, malfunction linked to the maintenance operation carried out the same morning, operation of the inverter outside the normal operating ranges, etc.)," the report concludes.
Identifying the cause of the fire may have financial implications for OVH due to the ongoing litigation against the company by about 140 customers who lost data in the inferno. ®