This article is more than 1 year old
OpenInfra Foundation talks about Directed Funding model for open source projects
Notes rise of 'pay to play' where companies try to buy way into governance – and says this is not that
OpenInfra Berlin OpenInfra still has ideas to share, including an intriguing funding model for open source projects the Foundation discussed at its in-person event last week in Berlin.
The "Directed Funding" initiative – a significant change to how some projects might be funded in the future – is about allowing organizations to fund a specific project rather than seeing their cash spread across projects for which they have no interest.
Jonathan Bryce, CEO and executive director of the OpenInfra Foundation, told The Register this wasn't a case of following a trend in the open-source world that he described as "this kind of pay to play-type scenario."
A project would launch and certain unnamed companies would attempt to buy their way into its governance. "They were kind of putting their name on it, they weren't necessarily actively contributing, really pushing code into it, or any of those kinds of things," Bryce went on.
Might there be a bit of open-source window-dressing going on elsewhere, where companies are conscious of being seen as good citizens in the tech world for the purposes of recruitment and impressing customers? "We were," said Bryce, "… very, very specific that we did not want any kind of pay to play scenario involved in our projects."
The OpenInfra Foundation tends to spend its money on technical governance, education and community-building, according to the CEO, but customers would still arrive and say, in Bryce's example, "Well, I really care a lot about Kata containers and less about just pure OpenStack because, you know, I use containers in my Enterprise SaaS application…"
As such, tipping cash into a general fund simply might not appeal when it was really just one project that the customer was keen on.
However, Directed Funding isn't about "'How do I buy a seat into the technical committee for Kata?' or 'How do I pay to get my code integrated?'" Bryce explained. "And so we really spent time over the last year kind of going, 'OK, how do we add this element as a way to continue to support our projects and our communities?'"
The model seeks to combine what has worked for OpenInfra over the last decade while directing the desires of sponsoring organizations without introducing Bryce's "pay to play" concept that the Foundation has spent years dodging.
As for how it works, OpenInfra sets up a project-specific legal entity to hold the project funding. A Platinum OpenInfra member serves as an executive sponsor to make sure the project stays aligned with the Foundation. The Project fund participants become part of OpenInfra (if not already) and form a project fund governing board and contribute to the project fund budget.
Those same participants then decide how to allocate the budget to support the project "based on OpenInfra Foundation guidance and expertise."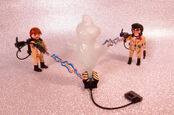 Zuul and Kata Containers: OpenStack tosses top-level protonpacks to OS new cats
READ MORE
And the OpenInfra Foundation itself? Staff to build a community.
It sounded a little like pay to play to us, but chief operating officer for the OpenInfra Foundation, Mark Collier, insisted it was quite different: "This specific thing that we've added is to … facilitate when there are a group of companies that want to pool their resources, their funding, so that that particular project can have additional help around awareness and education.
"But it isn't about controlling the roadmap or the code flow."
"We've just announced this," added Bryce, "so we haven't actually implemented this yet, but, Collier interjected "let's start talking about the ones we should do in the future."
To be clear, the model is currently intended for new projects. Kata was merely cited as an example (although we can imagine its success could see the new model retro-fitted at some undefined point in the future.)
The new Directed Funding model is clearly aimed at attracting organizations and projects that might have been put off by the traditional approach while still trying to maintain the open ethos of OpenInfra.
While other foundations might boast of an explosive growth in projects, there is much to commend in an approach whereby companies cooperate around a single project.
Small crowd at OpenInfra in Berlin
Numbers at the German city, of both attendees and sponsors, were modest compared to other mega-conferences, with many of those who might have attended remaining unable to travel.
But that's not the whole story. Another factor is the relative stability of OpenStack these days. Canonical product manager Tytus Kurek said on stage that setting up an OpenStack system had become a bit simpler nowadays, although he told The Register the process remains a little "challenging."
Still, "challenging" is an improvement on the knuckle-gnawing experience of the process as it was a few short years ago (at least in the experience of this writer) and signifies the increasingly stable world of OpenStack these days. And stable is not particularly glamorous.
A final factor could be the seeming diminished status of the OpenInfra Foundation (compared to the Valencia Kubecon of the Cloud Native Computing Foundation a few short weeks previously.) Another sponsor, Red Hat, told The Register its backing remained as strong as ever, and it had presenters in the schedule, despite Red Hat's booth being much smaller than it was previously.
The Foundation was also celebrating some pretty significant anniversaries – 10 years of OpenStack and Zuul – as well as releases of version 5 of the latter, along with version 6 of StarlingX and version 2 of the five-year-old Kata containers.
Roadmap
And of the projects running at present? Which ones are COO Collier, CEO Bryce, and general manager Thierry Carrez most excited about? For Collier it was Kata Containers and the drive toward confidential computing. Carrez named Zuul, citing the potential of the CI/CD platform to deal with increasingly complex workloads.
And Bryce? It was OpenStack itself. He told The Reg that while some members had gone off to work on other projects, new companies and new people had stepped in, meaning the Foundation's projects were "continuously regenerating and progressing."
Other than Linux, Bryce remarked: "I've never really seen anything like this."
"That's why I'm still here!" he said. "I was planning to go do something else long ago, but it's actually been just very, very exciting and continuously interesting to see it all evolving." ®